---
---
---
---
1950 – 59
Ireland in the 1950s
In the 1950s, economic hardship, high prices and low wages set the agenda of those seeking public office. There was mass unemployment and State benefits were low. Emigration for thousands of Irish men and women was seen as the only option. The majority of those who left were young people. England offered many opportunities in construction in the post-war period; the NHS offered free training and employment for large numbers of Irish nurses and midwives.
Seeking work in America was more difficult as it was necessary to get sponsored by somebody already living there. This strengthened links with extended families of the Irish already settled in the US.
Vocations continued to be high during this decade and there were Irish religious working in the missions across the world, especially in the education field. In Ireland, schools were run by religious orders (all denominations) and there were no State-run schools. Secondary school was fee-paying, so the majority left formal education after the Primary School Certificate, aged fourteen. The total attending secondary school in 1950 was 47,000 but not all those students stayed for five years. By 1950 girls at this level had parity with boys – although girls did not have access to the same range of subjects. Only 4,500 pupils sat the Leaving Certificate that year. During the same year 7,900 attended university in Ireland with a quarter of those being women.
Health of the Nation
In the early 1950s there were major changes in health care provision with a national based health system. An Bord Altranais, the Irish Nursing Board was established under the terms of the Nurses Act, 1950. New hospitals opened such as Cherry Orchard in Dublin which replaced the old Cork Street Fever Hospital.
In 1951 Lady Valerie Goulding co-founded a rehabilitation service – the Central Remedial Clinic – for children and adults as a response to an outbreak of poliomyelitis.
That year the then Minister for Health, Dr Noel Browne, proposed a Mother and Child Scheme offering free maternal care and postnatal treatment to all mothers and babies. The Irish Medical Association objected and they were supported by the Catholic Bishops. Dr Browne met with Archbishop John Charles MacQuaid but he refused to accept the requirements of the Bishops. In April 1951 he lost the support of his own party Clann na Poblachta and he was forced to resign. After his resignation as Minister for Health, Browne left Clann na Poblachta, but was re-elected to the Dáil as an Independent TD for Dublin South-East in the subsequent general election.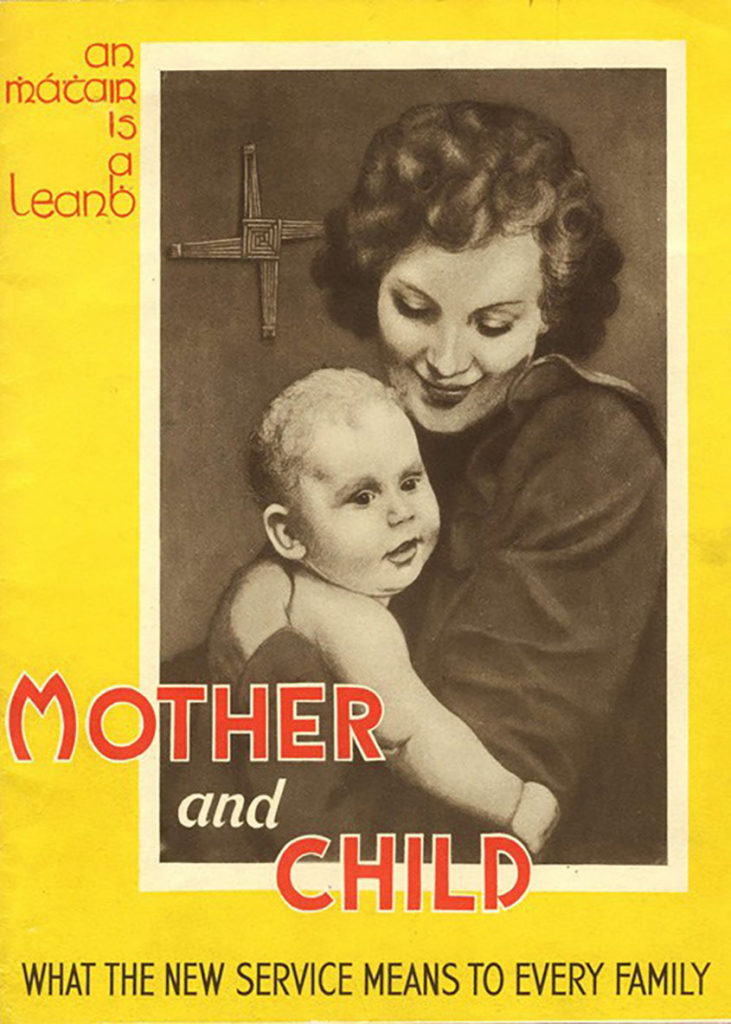 A short time later, following the election of the 14th Dáil, the Inter-Party Government was replaced by a Fianna Fáil-led government supported by Clann na Poblachta and independents including Noel Browne. The election returned Honor Mary Crowley, Bridget Mary Rice and Mary Bridget Ryan as TDs for Fianna Fáil while Bridget Redmond and Mary Reynolds were re-elected for Fine Gael.
Fianna Fáil reached an accommodation with the Catholic hierarchy and provided a means-tested mother and child service to dependents of people insured under the Social Welfare Act (1952).
Women in Politics in Ireland, 1950s
Economic concerns saw individuals like Mary Frances Davidson with her trade union experience being elected to the Labour Panel of the Seanad in 1950. She was the first woman elected as a Labour member of the Oireachtas. The Seanad Election of August 1951 saw Jane Dowdall, née Doggett the widow of Senator J.C. Dowdall also being elected from the Industrial and Commercial panel. She was a Councillor on Cork Corporation. A former nurse, she now ran the family business in Cork. Mary Davidson, Jane Dowdall and Margaret Pearse were re-elected following the Seanad Election of 14 July 1954. Helena Concannon died in office having been re-elected in 1951.
In 1954 the Government of the 15th Dáil was formed as a second inter-party government between Fine Gael, Clann na Talmhan and Labour. Honor Mary Crowley and Mary Bridget Ryan were joined by Celia Lynch, a new Fianna Fáil TD. Mary Reynolds was returned again for Fine Gael and Maureen O'Carroll was elected for the Labour Party.
Honor Mary Crowley was the first woman to represent Ireland on a delegation to the Council of Europe in Strasbourg between 1954 and 1957. She was nominated by the Inter-party Government despite being a member of Fianna Fáil. This was significant as it gave Ireland an influence in international affairs, the first steps towards Ireland's direct involvement in European affairs. Ireland was already a member of the Organisation for Economic Co-operation and Development (OECD), a body which represented 18 countries including the USA and Canada. It had been set up in 1948 to distribute aid under the Marshall plan in post-war Europe.
In the bye-election in February 1956 caused by the death of her father in a car accident, Clann na Poblachta's Kathleen O'Connor was elected. Representing Kerry North, Kathleen was just 21 but her name was not yet on the electoral register so she was unable to cast a vote. Her father Johnny O'Connor had been a TD for Kerry North for Clann na Poblachta.
The Civil Service Commissioners Act, 1956 enabled the Civil Service Commissioners to regulate that, in relation to competition for a civil service position, female candidates had to be either unmarried or widowed.
The First Female Head of Mission for Ireland.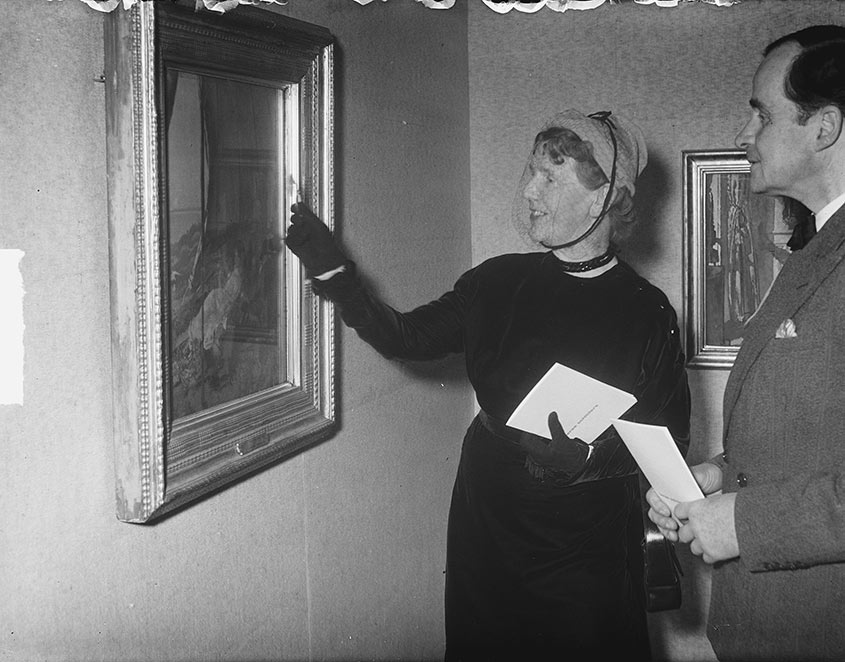 Josephine McNeill was chairperson of the executive committee of the Irish Country Women's Association until 1950 and was a member of the Department of External Affairs advisory committee on Cultural Relations. She was chosen to represent Ireland at the general assembly of UNESCO in Paris in 1949.
In the 1950s she was appointed Minister to the Netherlands, the first female Head of Mission for Ireland. Josephine was well accustomed to diplomacy as the wife of the former Governor-General James McNeill, who had served in the role 1928–1932.
Irish Women In The News, 1950s
1954
In 1954 a 'farmerette' class was introduced at the National Ploughing Championships – it was open to all women – with no reference to age or marital status – the winner was known as 'Queen of the Plough'.
The Irish Countrywomen's Association established their college at An Grianán, Termonfeckin, County Louth.
1955
Anna May McHugh became Secretary of the National Ploughing Association.
1956
The first Irish woman Olympian, Maeve Kyle, took part in 100m and 200m athletics in Melbourne, Australia.
Margaret Skinnider became President of the Irish National Teachers Organisation.
1957
The Married Women Status Act 1957 gave a woman separate rights to property and allowed her formal contractual capacity.
The Marriage Bar was lifted for primary teachers, in response to a temporary shortage of teachers, by the then Minister for Education Jack Lynch.
1958
The Garda Síochána Act 1958 provided for employment of Bean Gardaí.
Women were admitted to the Senior Common Room in Trinity College Dublin.
First female Professor sat on the Board of Trinity College Dublin.
1959
The ICTU Women's Advisory Committee was established.
Jane Dowdall née Doggett, became the first female Lord Mayor of Cork, serving from 1959 to 1960.
The Rose of Tralee festival began. Only women from Tralee were eligible to compete. In the early 1960s eligibility was extended to women from Kerry and in 1967 to women of Irish birth or ancestry.
The first 12 female Bean Garda recruits were sworn in on 10 July 1959 at Garda Headquarters. Mary Margaret Browne is recorded as the first recruit.
---
---
---
---
---
---