Can you help identify the missing Women?
Executive of Cumann
na mBan February 1922
This photo shows 23 members of the Executive of Cumman na mBan. While we know who most of these women are, there are 4 who remain unidentified. Can you help us identify them?
At a special convention on 5 February 1922, Cumann na mBan rejected the Articles of Agreement for a Treaty with Great Britain and Ireland. Mary MacSwiney brought forward a resolution that reaffirmed allegiance to the Republic of Ireland. Jennie Wyse Power proposed an amendment to accept. 63 members voted in favour, while an overwhelming 419 voted against.
Below we have them listed out row by row including the women we can't identify.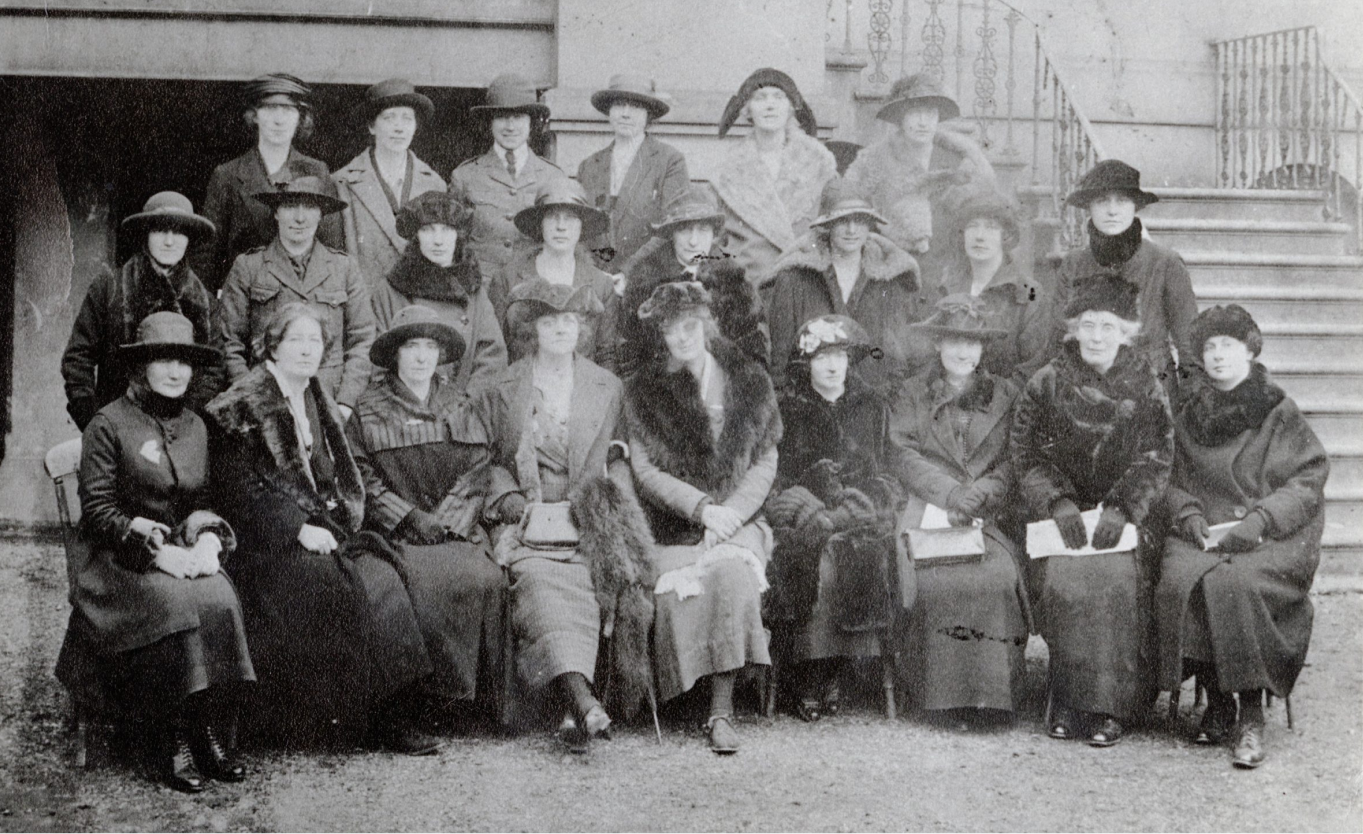 Front Row Left to Right:
Kate Breen
Dr Adeline English
Áine Ceannt
Jennie Wyse Power
Constance de Markievicz
Nannie O'Rahilly
Mary MacSwiney
Margaret Pearse
Unidentified
Second Row Left to Right:
Máire O'Reilly
Máire Deegan
Éilis Nic Eachnaidh
Bríd Connolly
Unidentified
Maureen McGavock
Phyllis Ryan
Unidentified
Back Row Left to Right:
Unidentified
Máire Comerford
Sighle Humphreys
Unidentified
Josephine Ahearne
Fiona Plunkett
Discover
Faigh Amach
Mná100 provides the Dictionary of Irish Biography entries for some of the best known women, and for this centenary have also created new biographies of some of the lesser known women
Some of the women in the photograph were identified in the newspaper. Others identified by Sighle Humphries in her handwritten key, now in the collection of University College Dublin Archives .
Documents in the Military Archives have a list of known members of the Executive. Linked here are the names of the missing women contained in this document. Examine the photograph and see if you can help us identify them.
If you have any suggestions please contact Mná100
100 Years on, not all of the members of the Executive are identified. Mná100 has created new biographies of some of the lesser known women members
Kate Breen represented the Munster Branches of Cumann na mBan. She was described in her obituary in the Irish Press as 'one of the foremost figures' in the 'new Ireland' and that 'gave her best to the nation and to the folk of her own county.'  The Evening Echo told their readers that even when her health broke down in the last 15 months of her life she 'wore out her abounding energy and zeal' and presided at her last meeting at the Board of Health on the 16 December 1937 and had her 'usual ability and grasp of detail.' Evening Echo, 28 December 1937.
Born Catherine Breen on 13 December 1869 in 15 High Street Killarney, County Kerry to Mary (née Scannell) and John Breen, who at the time worked in the local Asylum. She was one of a family of 12, although the exact number of children has not been identified. Her father later became the Assistant Register of Births, Deaths and Marriages.
She took an active part in the campaign of independence. She was held in Cork Jail for two weeks when she was arrested along with Lottie Foley, Etta Woods, Peggy Cahill and B. Gleeson (Bureau of Military History statement of Maurice Horgan BMH952). She opposed the acceptance of the Treaty and was interned for a period in Kilmainham Gaol.
She stood for election in the General Election of 1923 but was unsuccessful. She joined Fianna Fáil in 1926. Appointed to the Executive, she represented Cumann na mBan. From 1926 she served as a member of Kerry County Council until her death in 1937. She stood for election to Dáil Éireann in 1927 but was unsuccessful. She held positions such as the Chairman of the Kerry Board of Health, the Prices Commission and as a member of the Kerry Agricultural Committee and the Press Commission. She inaugurated a scheme for the purchase of labour cottages in Kerry. She was Vice-Chairman of the General Council of County Councils and a member of the Senate of the National University of Ireland. 
Ada English
Dr Adeline English, Teachta Dála
Madame Markievicz
Teacha Dala, Constance de Markievicz
Madame O'Rahilly
Nannie O'Rahilly
Born in New York (see: Humphreysfamilytree.com complied by Sheila Schneider) on 4 September 1875 as Annie Hickey Brown, she was known as Nannie, Nancy, Anna and Neans, the Irish form. 
She was one of five daughters – Mary, Sadie, Margaret, Madeleine and Celie – of John Brown who had been born in Ireland in 1805. He became the owner of a wool and linen business which traded under the title John Brown and Sons. He had three sons, James, John and Robert. 
Nannie was educated in an Ursuline Convent in Fontenay-aux-Roses, Paris. In the summer of 1893 she met Michael O'Rahilly (later known as Ua Rathghaille, The O'Rahilly) at a party in County Kerry. They married in New York on 15 April 1899. Their first child, Robert (Bobby) was born in Philadelphia in 1900. In 1902 the family returned to Ireland. Bobby died of peritonitis aged 3, on 19 August 1903 in Bray, County Wicklow.
Over the next few years the couple lived in Ireland, where their second son was born in Dublin in 1903, he was named Richard Macalister, always known as Mac.
They moved to Paris and later London. Their third son, Egan, was born in Hove, Brighton, on 22 September 1904, he was always known by his name in Irish, Aodogán. They were back in the US in 1905 where a fourth son, Niall, was born on 3 January 1907. 
In 1909 the family returned to Ireland on a permanent basis. The O'Rahillys became involved in nationalist politics, and the Gaelic League. Nannie became proficient in the Irish language. Irish and French were spoken in their home. She was known as Madame O'Rahilly. Her husband wrote for a number of publications and later became managing editor of An Claidheamh Soluis. 
In 1911 the family are recorded living at 40 Herbert Park. The census is filled in the Irish language, using the Ua Rathghaille name. Nannie gave birth to their fifth son, Maolmuire, known as Myles or Milo, later that year. 
Nannie joined Cumann na mBan when it was formed in 1914 and elected to its Executive. The O'Rahilly, a founding member of The Irish Volunteers, was killed during the 1916 Rising. Their sixth son was born on 25 July 1916 at 40 Herbert Park, he was named Michael Joseph O'Rahilly after his father, but always known as Rory. 
In 1917 Nannie became the Vice President of Cumann na mBan and remained a public figure associated with that organisation from 1920-1922. She sat on the Executive Committee of the White Cross Organisation during the campaign of independence, travelling to America on behalf of the organisation. See Toward America. She acted on the winding up Commission in 1925. She remained as joint honorary treasurer of The Children's Relief Association until 1946, when the organisation completed its work. She was active in the Society of St Vincent de Paul. 
She was opposed to the acceptance of the Treaty. She was imprisoned briefly during the Civil War from 4-11 November 1922.
Miss McSwiney
Teacha Dala, Mary MacSwiney
Mrs Pearse
Teacha Dala, Margaret Pearse
Unidentified
Mrs Mulcahy identified by Sighle Humphreys
Mrs Power
Jennie Wyse Power
Miss O'Reilly
Máire O'Reilly
'She was always ready to shoulder extra burdens and she was never known to fail in any crisis.' MSP34REF60388.
Mary O'Reilly joined Cumann na mBan in 1917, and became a member of the Colmcille Branch, located in Blackhall Street, North West Dublin. She was attached to the First Battalion. Her brothers were members of 'A' company of the 1st Battalion IRA. They were arrested in December 1920 MSP34REF60388. Her sister Brigid was her superior officer and also served on the Executive of Cumann na mBan for a short time. 
Mary O'Reilly was appointed Adjutant of Cumann na mBan at a time when there were 75 members on the roll. Her tasks were drilling, first aid, making dressings and visiting prisoners in Mountjoy Jail. She was involved in reporting to the District Council weekly. There she received instructions for her organising work.   She was also involved in moving arms and ammunition to and from Aughrim Street. 
She was considered 'one of the most active members of her unit.' During this period she worked in Sibleys, Stationary Shop, 51 Grafton Street. She lost her job at the end of 1918. No reason given, but it is mentioned in her pension files, so it was likely that it was a result of her political activities. She was unemployed for three months. MSP34REF60388.
In April 1919 she became paid Secretary to the Republican Prisoners' Dependents Committee which occupied the same office as the Cumann na mBan Headquarters. She was available at all times for Cumann na mBan, giving full-time service. 
She was appointed to the Executive of Cumann na mBan in October 1919, in place of Lily O'Brennan.  She became an organiser in Wicklow and Carlow. She went to inspect and organise branches. 
She was Co-Treasurer of Cumann na mBan Organisation from 1920-1922. After the Treaty she said she played no active part, elsewhere she says she was active up to May 1922.  She took no part in the Civil War. MSP34REF60388.
Máire never married. She lived with her sister Brigid, who was also a spinster. She worked in the Civil Service in the 1930s and 1940s in the Department of Local Government and Public Health (National Health Insurance). Her office was in the Customs House. 
She was awarded a pension in 1946. She lived in her later years at 276 North Circular Road, Dublin.  She died aged 68 on 18th April 1958 in Dublin Airport. The exact circumstance of her death are unknown. MSP34REF60388.
'She never failed to carry out all the orders, never faltered or failed, either in courage or reliability.' MSP34REF21162
Máire Deegan was from County Wexford, she gave her address as Brideswell, Craanford, Askamore, Wexford. The daughter of Mary and James Deegan, she was from a family of eleven.  She moved to Dublin, and she began working in a shop. 
She was a member of Central Branch of Cumann na mBan, which she had joined on 15 February 1916.  She was in Wexford for the Easter Holidays when she heard of the Rising and she cycled to Dublin. She reported to Jacob's Factory but she was unknown to those in the garrison. She awaited orders at her cousins' home in Wicklow Street. MSP34REF21162
After the Rising she was involved with the National Aid and the Prisoners' Dependents' Fund. She was part of the reorganisation of Cumann na mBan attached to the branch in Parnell Square. She was involved in electioneering in the General Election of 1918. During this period she was working in a sweet shop on George's Street, and it was there that all the Cumann na mBan typed reports that were produced in Foley's Typewriter Business in College Green were deposited there, according to Nancy Wyse Power. (Nancy Wyse Power, BMH Witness Statement 587).
In 1919 she opened a grocery shop in partnership with her friend Máire O'Neill. It was called An Stad located at 95 Upper Dorset Street and became 'post office for the IRA' for messages from all over the country, the messages were for both the IRA and Dáil Éireann. (Áine Ní Riain, BMH Witness Statement 887). 
She was Commanding Officer of Cumann na mBan in Parnell Square. The Ryan sisters Áine and Éilis were attached to that branch, as well as Mary Rigney. Máire Deegan was involved in getting a cottage for Cumann na mBan in Howth in 1919. She was 1st Lieutenant, who both the Ryan sisters reported to. Máire Deegan was involved in the first session of Dáil Éireann at the Mansion House, she was able to get Áine Ryan a ticket to attend. (Áine Ní Riain, BMH Witness Statement 887). 
In February 1919 when Kathleen Clarke was released from prison, Máire was one of those who was part of the welcoming reception for her hosted at the Gresham Hotel, identified by her family in the photograph from that event. Image Kilmainham Gaol, 19 PO-1A33-29.
The shop on Dorset Street also held all the papers for the Dáil Éireann Ministry of Labour whose Minister was Countess Constance de Markievicz. She also worked closely with Markievicz and according to her family she was a confidante. See: Dan Walsh, In Our Time, Women in the 1916 Rising, Wexford Echo, 15 April 1916, a transcript of the article can be found here. Her Black and Tan medal, (image on Alamy) has two bars showing active service. 
She was close to all the prominent women of the period. In an account by Bridie O'Mullane, Máire Deegan apprehended a woman who had infiltrated Cumann na mBan as a spy, gave her a warning, before sending her out of the country. 
Máire took her share out of the shop in Dorset Street. In June 1921 she was ordered by Cumann na mBan to leave Dublin and become an organizer in her native Wexford. MSP34REF21162
She was co-opted into the Executive of Cumann na mBan in October 1920. She was re-elected in 1921. In October 1921 she became a full time official at the Headquarters of Cumann na mBan (MSP34REF21162 letter from Leslie Bean de Barra, 10 July 1937).
She opposed the Treaty. She was active in the fighting. According to Áine ní Riain 'went everywhere with the fighting men' but came back to Dublin often. When the fighting took place at the centre of Dublin in July 1922, she had made her way from Wexford to take part. (Áine Ní Riain BMH Witness Statement 887). She was stationed at Barry's Hotel. 
She was Director of Intelligence for Cumann na mBan from 1922. She was arrested on 14 November 1922, when she was arrested it was described as 'a loss'. (Áine Ní Riain, BMH Witness Statement 887). Máire was imprisoned in Mountjoy Jail, Kilmainham Gaol and the North Dublin Union. She was part of the command structure within the prison. She was put in charge of hygiene, which was very important in the NDU as women were getting sick from the conditions to which they were subjected. She was one of the 22 women who escaped from the detention centre. 
She continued in Cumann na mBan and continued as Director of Intelligence until 1927. Yet when she was interviewed she states that she called a convention of Cumann na mBan but did not do anything else. When asked did they not come looking for her after her release, she said 'No. They probably had enough of me.' 
She was in ill health following her imprisonment. 
She later worked in the Hospital Trust (The Irish Sweepstakes). 
She was awarded a pension in 1938.  In her final years she lived at 113 St Stephen's Green. Due to her ill health, she was moved to Baggot Street Hospital. There on 2 May she discovered that her father had died on 2 May. She died the following day on 3 May 1939 aged 51.
Members of Old Cumann na mBan lined the route from the hospital to the Carmelite Church on Clarendon Street. The coffin was draped with the Tricolour.  
She is buried in Askamore Cemetery, County Wexford.
Miss Aughney
Éilis Nic Eachnaidh
Born 5 January 1898 in Roscat (also given as Roscott), Tullowbeg, County Carlow, to Patrick Aughney a farmer, and his wife Maryanne, nee Dargan. She was named Elizabeth, she was known as Lizzie as a child. She was one of six children, five girls and one boy.
She was educated in University College Dublin where she received her teacher's diploma. She also received an MA. She graduated in 1919. From September 1920 she was employed in Scoil Brighde, Miss Gavan Duffy's school. The school taught through the medium of Irish and she was known as Éilis Nic Eachnaidh or Eilís Aughney. 
Eilís was part of the University Branch of Cumann na mBan, joined late in 1919. Elsewhere she states it was early in 1920 MSP34REF38786. As well as doing what is described as 'routine work' she also stored papers for the Director of Propaganda. 
She founded the local branch of Cumann na mBan in Tullow, County Carlow. Eilís visited Tullow three times a year, and when she was there she was involved in organising.  She was also involved in organising in Longford. MSP34REF38786
She became a member of the Executive of Cumann na mBan on 3 May 1921 and worked in the office of 27 Dawson Street. 
In 1922 she was still active in Cumann na mBan and involved in intelligence work, and the transportation of weapons. She became an Honorary Secretary in February 1922 and her name was printed on many circulars during this period.  She was on active service in Tullow (she was at home during the holidays) after the attack on the Four Courts. She maintained a line of communication for the Southern Division.
In her support letter Leslie Bean de Barra wrote: 'The fact that she was so active during the telling periods of the fight and was not arrested speaks for itself.' Letter to the Pension Board, 26 April 1938. MSP34REF38786   
In 1923 she worked in the office giving as much time as a paid official. In her pension application she stated her home was also available to men on the run. MSP34REF38786   
She resigned from Cumann na mBan in 1924. 
In 1938 she applied for a pension, she was not awarded the full amount at this time. She made a successful appeal. 
In the 1940s she was appointed to the Agricultural Wages Board as a neutral member.  
She was living at 19 Ely Place Dublin and 72 Merrion Square in the 1930s. She worked as an assistant to the Professor of Education in University College Dublin. 
She was active in Old Cumann na mBan and a member of the Countess Markievicz Memorial Committee in the 1950s.
She was also one of the members of Cumann na mBan who actively collected the records of the organisation, which it was hoped would form the basis of a history of the organisation. 
Her final years were spent living in Terenure. She died on 21 May 1982. 
Miss Connolly
Bríd Connolly
'She was a very live wire. She was particularly active during that period' Margaret Loo Kennedy. MSP34REF3977 
Bridget (also known as Breege or Bríd) Connolly was born in Friarstown County Carlow on 23 May 1890. Her parents were Peter Connolly and Elizabeth Gaynor. Her father Peter was listed as a labourer.  By 1911 the family had moved to Dublin, the family lived in Kilmore, Artane. Bridget was working as a school mistress. 
She was a member of Central Branch of Cumann na mBan which she joined in 1915. She took part in the 1916 Rising. She was as a courier between the GPO and the Four Courts. PH Pearse asked her on Friday of Easter Week to take charge of the women that had been in the GPO and lead them to safety. She was briefly arrested and held in Broadstone Station. MSP34REF3977 
Following Easter Week she searched the hospital and wrote to anyone who she thought could help to find the whereabouts of Paddy Shortis. She had been his girlfriend. He had been killed in the retreat from the GPO.  See: Mná 1916-2016 for images.
She became a Captain in Cumann na mBan in 1919. Secretary of the Branch from 1920. Following the Rising she stored guns, and was involved in the transport of weapons. She was active in Anti-Conscription. She secured safe houses and was involved in the fund raising and looking after dependants of those imprisoned. She was a clerk in the Dáil Courts – the Coolock and Raheny District Courts 1920-1922. She was organising secretary to Sinn Féin in North County Dublin from 1918-1923. She was involved in carrying messages for Michael Collins. MSP34REF3977
She became a member of the Executive of Cumann na mBan in October 1921. She was appointed at the Convention. 
She established a branch of Cumann na mBan in Portrane. She was involved in reorganisation in Skerries, and inspected branches in Laois and Offaly during this period. She also established a camp in Artane during the Truce period. MSP34REF3977
She was Anti-Treaty. Following the attack on the Four Courts she was attached to the post at Barry's Hotel and Tara Hall. She rendered first aid under fire. She purchased weapons and was involved in the supply and transportation of them and also involved in communications. She undertook the distribution of messages throughout Ireland.  She was on the run during this period.
She was arrested in March 1923 and imprisoned in Kilmainham Jail. She was transferred to the North Dublin Union. She was prison Adjutant. She underwent two hunger-strikes. She was one of the last female prisoners released in November 1923.  MSP34REF3977
Bridget remained unmarried. In her later years she lived in Whitehall. She died on 15 November 1981. She is buried in the Connolly family plot in Grange, Co Carlow. 
Unidentified
Alice Mullans
'… unrivalled record of national service, and her unqualified devotion to the men who in Ulster fought under such difficulties.' MSP34REF508
Her mother's family were described as an Old Monaghan family. Her mother was a sister of Canon Quigley. They were from Killycoona in Newbliss. 
In 1917 Miss Alice Cashel of Cumann na mBan Executive asked Alice Mullan to form a local branch of Cumann na mBan. Alice Mullan became an organiser and visited Castleblaney, Newbliss, Clonibret, Treemilehouse, Middletown, Cootehill and Corcaghan. She also set up branches in Armagh and Cavan. She set up 9 branches in total, this was at her own expense. MSP34REF508 
Her sister Dympna [later Mrs O'Halloran MSP34REF44730] and her cousins Annie and Nora Quigley were also members of Cumann na mBan.
During the campaign of independence she was involved in nursing the wounded, catering for officers, visiting local jails as well as prisoners in Belfast Jail, Ballykinlar and Mountjoy Jail in Dublin. 
When Owen Keenan was wounded in a raid for arms on 30 August 1920 he was brought to what was described as 'Alice Mullan's house on Market Street, Monaghan'. In the reports it was stated this was done with the consent of her 'patriotic father'.  Owen Keenan was nursed by Dympna, who was a student nurse at home on holidays, but he was badly wounded and he died from his wounds two weeks later.  MSP34REF508
She was appointed to the Executive of Cumann na mBan. MSP34REF508
She voted to accept the Treaty. She became a member of the Executive Council along with Mrs Wyse Power, Mrs Stopford Green, Mrs Blythe, Mrs O'Shea Leamy, Mrs Sean Connolly, Mrs Griffith, Mrs M Hayes, Mrs Mulcahy, Mrs O'Daly, Miss Shaw, Mrs John MacNeill, Mrs Costello, Miss Gavan Duffy, Miss McGilligan, Miss Kathleen Brown (Wexford) Miss O'Sullivan, Miss Spring Rice, Mrs Curran and Mrs Wordsworth.  Formation of Cumann na Saorise film
She remained active in politics for the Cumann na nGaedheal party and in 1927 she attended a meeting for the candidates for the General Election, Anglo Celt, September 10 1927. 
She lived at 40 Park Street, Monaghan Town. In 1942 she was awarded a pension.  From 1930s to 1950s she worked as a clerk for Monaghan County Council. In 1955 she resigned her position as a clerk in Monaghan County Council, as she described she had reached the age limit. MSP34REF508 
In 1951 along with her cousin Nora (Analore, Kileevan) and her sister Dympna (Kileevan) they attended the unveiling of the memorial to Keenan. Alice Mullan represented Cumann na mBan at a number of events over the years such as An Tostal festival, 1953. 
In 1959 she was Honorary Secretary of the Monaghan County IRA Veterans and Cumann na mBan Association Memorial Committee which had been formed to raise monuments to those 'men and women of the county which took part in the struggle for national independence.'
In 1959 she was living on Clones Road in Monaghan but by the end of the 1960s she had moved to live at Beech Hill Convent, Monaghan. She died there on 18 July 1972. MSP34REF508
Miss McTavock
Maureen McGavock, later Mrs Beaumont
Mrs Barry
Leslie Price, Mrs Tom Barry
Mrs P Ryan
Miss Phyllis Ryan, later Bean Ui Cheallaig
Born Winifred Cassidy on 31 December 1878 in Enniskillen County Fermanagh to Anthony Cassidy a wholesale grocer and farmer and his wife Jane McGurgan. There were eleven children born to the Cassidys, only four survived to adulthood, including her brother Louis b.1877, he went to be a doctor, and served as Master of the Coombe Maternity Hospital from 1921-1928. After her father retired he purchased the house and lands at the Graan.
Winnie was married on 30 January 1901 to Patrick Gordon, a sub inspector of the Royal Irish Constabulary, from Frenchpark, Roscommon who was nine years her senior.
By 1903 Patrick had been promoted to district inspector. They moved to Cork and were living in Church Street, Dunmanway, County Cork where their daughter, Aileen Jane was born on 16 September 1903.
Patrick moved again to New Ross, Wexford. In 1911 Winnie was living with her widowed mother in Pembroke Street, Dublin and she notes the death of her daughter, but no registration of her death can be located. Her husband died the following year aged 41 on 14 November 1912 at Rosemount Cottage, New Ross.
The death of her father Anthony left Winnie with independent means. The young widow went to Paris and when war started she volunteered as a member of the American Ambulance service. Obituary, unidentified news cutting, 4 October 1950.
Her brother was serving in the 30th Field Ambulance during world war one and served in Macedonia and France. Following the 1916 Rising she nursed the wounded in the Royal Hospital, Baggot Street. 
She attended masses for the executed leaders of 1916, she visited the Pearse family and also Michael Mallin's widow Agnes. Now known as Úna Gordon, she joined the Cumann na mBan, Ranelagh Branch and was active in the Campaign of Independence, providing safe houses for those on the run. One of those who stayed in her home in 167 Strand Road was Austin Stack, from 1919 to 1922. He was often imprisoned during this time. Correspondence between them can be found in National Library of Ireland. 
She opposed the acceptance of the terms of the Treaty negotiated in London (as did Austin Stack). She was imprisoned during the Civil War for a period of nine months. 
She married Augustine Austin Stack on 10 August 1925. Their marriage was short lived, as Austin Stack died, aged 49, on 27 April 1929 at the Mater Hospital.
In the mid-1920s she was collecting for Irish Prisoners National Aid. She was deeply concerned with children's welfare and worked with Dr Kathleen Lynn and St Ultan's Hospital. She was also involved with an Infants' Aid Society co-founded by her brother. She was involved in the established in the playground in Foley Street, Dublin. See: Mna 1916-2016 for entry on her.  
Winifred Stack died 3 October 1950 aged 72 at 167 Strand Road. She is buried in Glasnevin Cemetery.
Mrs F Plunkett
Miss Fiona Plunkett
The youngest daughter of Count and Countess Plunkett, George Noble Plunkett and Mary Josephine née Cranny (known as Josephine). Born in 26 Upper FitzWilliam Street on 21 January 1896 she was named after her mother Josephine Mary, she was always known as Fiona.
Her father's profession was given as barrister at law. During her childhood, her father was director of the National Museum of Ireland.  She was the second youngest of a family of seven, her brother Jack was born the following year. From 1900 the children lived (except Joseph who was ill) in 17 Marlborough Road, although on occasion they lived in Wicklow and in Kilternan Abbey in County Dublin to avail of the healthy surrounding of the countryside.
Her early schooling is undocumented but in 1912 she was sent to school at Bon Secours in Holyhead. 
She worked in Liberty Hall during the lockout distributing free food. She was in Central Branch of Cumann na mBan from 1914. Her eldest brother Joseph was executed for his part in the 1916 rising. Her other brothers George and Jack were also out in the Rising and were imprisoned. During the 1916 Rising the Plunkett home at Fitzwilliam Street was made ready for the wounded. She went with her parents to Oxford when they were deported there.
When she returned she was secretary at Cumann na mBan headquarters. She was also active in electioneering for her father when he won the North Roscommon bye-election. 
She was an adjutant in Cumann na mBan and was a section commander. 
She was Anti-Treaty and was active in the Hamman Hotel/Tara Hall during the 'Battle of Dublin' in the summer of 1922. During Civil War she was arrested in Mayo for possession of anti-government literature and a map. She was imprisoned in Galway before she was transferred to Kilmainham Gaol. She was OC in Kilmainham Jail.
She remained opposed to the Irish Free State. She was imprisoned in 1926 and again the following year. 
She was engaged three times but never married, and remained living with her parents, during the 1920s in Elgin Road, Dublin. (Honor O'Brolchain, All in the Blood, A Memoir of the Plunkett family, the 1916 Rising and the War of Independence by Geraldine Plunkett Dillion, A.&A. Farmer, 2006.) 
During the 1930s she was a member of the executive of Cumann na mBan. In 1938 she joined a committee alongside Sighle Humphreys now Mrs O'Donoghue, Bridie O'Mullane, Lou Kennedy, Eileen McCavill, Rose McNamara, Áine Heron, Éilis O'Connell, Máire Twamley and Mollie Hyland to write a book on Cumann na mBan Irish Press, 18 February 1938.
In 1939 she was arrested and imprisoned again. 
She lived with her mother until her mother's death in 1944. The Plunkett family owned a number of properties so Fiona was independently wealthy. She lived a nomadic existence during the remainder of her life. 
In 1976 she was convicted and sentenced to imprisonment for the holding of a public meeting organised for provisional Sinn Féin in O'Connell Street to mark the 60th anniversary of the 1916 Rising. The alternative was a fine, she got a receipt to indicate that someone had paid the fine without her knowledge. Irish Press, 14 July 1977.
In her obituary in the Irish Press, 14 July 1977, it noted 'She had a talent for fine wool work, embroidery, hand weaving, and the making of carpets, vestments and tapestry. Her work became a feature in Dublin houses in her time and much was exported.'
She was buried in Glasnevin. Cumann na mBan provided a colour party, alongside Fianna Éireann members. Her coffin was draped by a tricolour.
Mrs Sighle Humphreys
Miss Sighle Humphreys
Mrs Josephine Ahearne
Miss Josephine Ahearne
Unidentified
Unidentified
Mrs Máire Comerford
Miss Máire Comerford
Executive Members included in this list who could be unidentified women in the list?

Mrs Margaret Skinnider
Miss Margaret Skinnider
Mrs Madge Daly
Miss Madge Daly
Born on Henry Street, Limerick in February 1877 into a prominent Fenian family. She was the second eldest daughter of Edward Daly and his wife Catherine O'Meara. 
She had eight sisters and one brother Edward (known as Ned). Her father took part in the 1867 Fenian Rising alongside his brother John. The death of the 41 year old Harbour Weightmaster in 1890 ended the childhood of the eldest three girls.
Her brother Edward Daly was later Commandant of the 1st Dublin Battalion of the Irish Volunteers. Her sister Kathleen married Tom Clarke. Both Edward and Tom were executed for their part in the 1916 Rising.  
Named Margaret, after her Daly grandmother, she was always known as Madge. She was academically gifted and for a time she worked as a teacher in school where she had been a pupil, the Presentation Convent in Sexton Street. She was trained as a Milliner in Cannock's Department Store in Limerick City.
By 1901 the head of the household was Uncle John, who was then Mayor of Limerick, also residing in the home was her grandmother Margaret Daly, 90, her daughter Ellen, Madge's mother Catherine, her eight sisters and her brother.  By then she had joined the staff of her Uncle's bakery in William Street. She took over the running of the business when he became ill. She maintained a highly successful business for the remainder of her working life. It is said that it was her business acumen that made the family wealthy. 
Madge Daly joined Maud Gonne's Daughters of Ireland (Inghinidhe na hÉireann) in 1900. She was a founding member of Cumann na mBan in Limerick. She was appointed as the first President of the Cumann na mBan branch in Limerick City upon its foundation in 1914. 
By 1921, as Madge described through their 'own industry' she purchased 'Ardeevin' on the Ennis Road. The business by then had a bakery, a confectionary business and a flour business on Sarsfield Street. The Dalys were subjected to continuous raids both in their home and business during the revolutionary period. They were fined, their premises were set on fire. On 9 April 1921 the family were subjected to a brutal and violent attacked by masked and armed men. The content of their home was burnt by military order. The Dalys were only able to save photographs.  
She played an active role in Cumann na mBan during the revolutionary period, fund-raising, arranging safe-houses, and issuing propaganda, amongst other activities. 
Madge was actively involved in the White Cross and the American Commission for Relief in Ireland.
She was opposed to the Treaty and during the fighting in Limerick in July of 1922 she was one of the last to leave New Barracks which had been occupied by Anti-Treaty forces. 
Madge Daly retired as President of the Limerick branch of Cumann na mBan in 1924.
In 1930s Madge was involved in the establishment of the Limerick Shoe Company. The family moved to a larger house with gardens, Tivoli on the North Circular Road. During the Emergency, due to Madge's declining health, the family decided to move to Dublin to be close to specialist treatment. Madge died there in 21 January 1969 aged 91. She is buried in Mount Saint Lawrence Cemetery in Limerick.
Her papers including an unpublished memoir form part of the Daly Papers in the special collections at the Glucksman Library, University of Limerick.
Information
Eolas
By curating the content on this website, we hope to inspire the pursuit of bold, creative inquiry. Equipping us for the next 100 years.
1921
100 Years of Women in Irish Politics and Public Life
The Pop-Up Museum showcasing 100 years of Women in Politics and Public Life was launched in December 2018 to mark the centenary of the introduction of voting rights for women.
View Virtual Tour