'Dúnmharuithe 'Chuirfiú Luimnigh'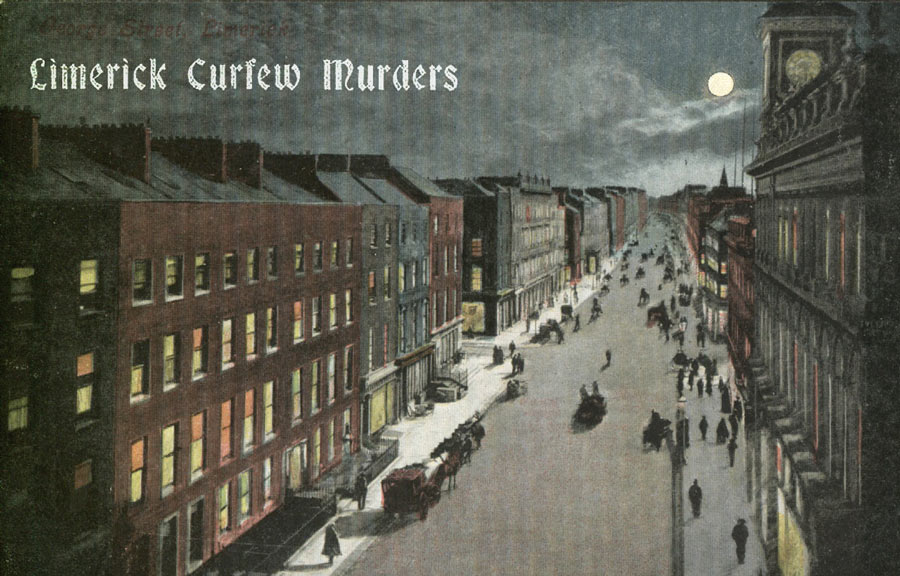 Cuireann Mná 100 aiste shaibhir grianghraif le léaráidí Chomhairle Cathrach Luimnigh agus Chomhairle Chontae Luimnigh ar Dhúnmharuithe an Chuirfiú i láthair. Mharaigh Fórsaí na Breataine an Méara George Clancy agus an tIar-Mhéara Michael O'Callaghan agus an tÓglach Joseph O'Donoghue sa chathair i mí Márta 1921. Bhíothas ag díriú ar oifigigh thofa ag an am ó tharla gur bhunaigh Dáil Éireann rialtas eile lenar bhain bonneagar rialtais náisiúnta agus áitiúil.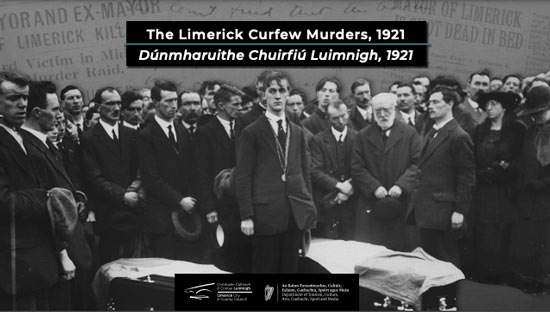 Chuir baintreacha na bhfear, Mary Clancy agus Kate O'Callaghan scéal an eachtra, a dtugtar 'dúnmharuithe an chuirfiú' anois air, os comhair an phobail agus bhí bá á léiriú d'fheachtas saoirse na hÉireann sna meáin náisiúnta agus idirnáisiúnta dá bharr sin. Toghadh an bhaintreach Kate O'Callaghan chuig an dara Dáil Éireann.
Gné Fuaime a Coimisiúnaíodh go Speisialta
Léann an t-aisteoir Dawn Bradfield as leabhar Kate O'Callaghan The Case of Michael O'Callaghan, a foilsíodh in 1921. Tá Dawn Bradfield ag glacadh phearsantacht Kate O'Callaghan, arbh as Corcaigh í féin, sa saothar cumhachtach seo. Is as an gceantar céanna i gcroílár cheantar tuaithe Iarthar Chontae Chorcaí Dawn agus Kate.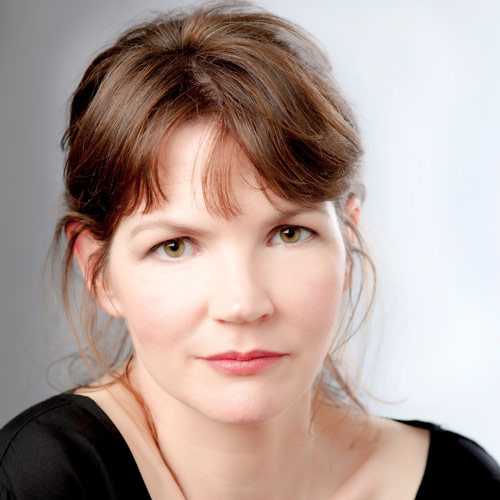 Léann Emma O'Kelly cuntas bhean an Ardmhéara Mary Clancy, cuntas atá mar chuid de Cartlann Mhíleata Bhiúró na Staire Míleata. Thug baintreach an Mhéara Clancy, agus í amach sna blianta, cuntas ar a tharla an oíche úd i Márta 1921 nuair a caitheadh a fear céile le hurchar ina dteach in Thomondgate. Tógadh Emma O'Kelly san áit chéanna den Chathair agus is comhartha ómóis álainn agus cumhachtach é a léamh ar an mbean eile seo as Luimneach.