'What objects would you put in a Women's Museum?
Past, Present and Future'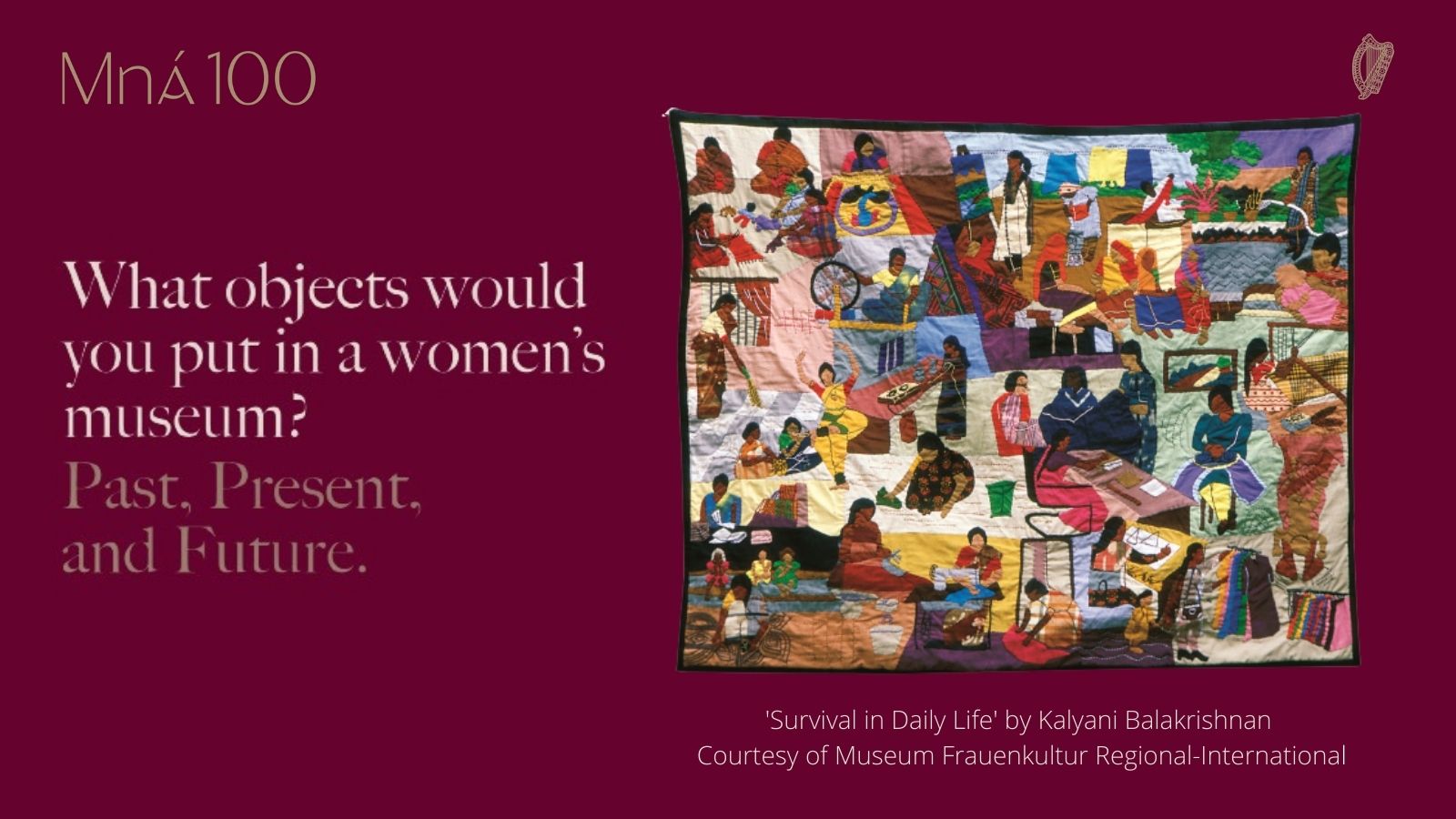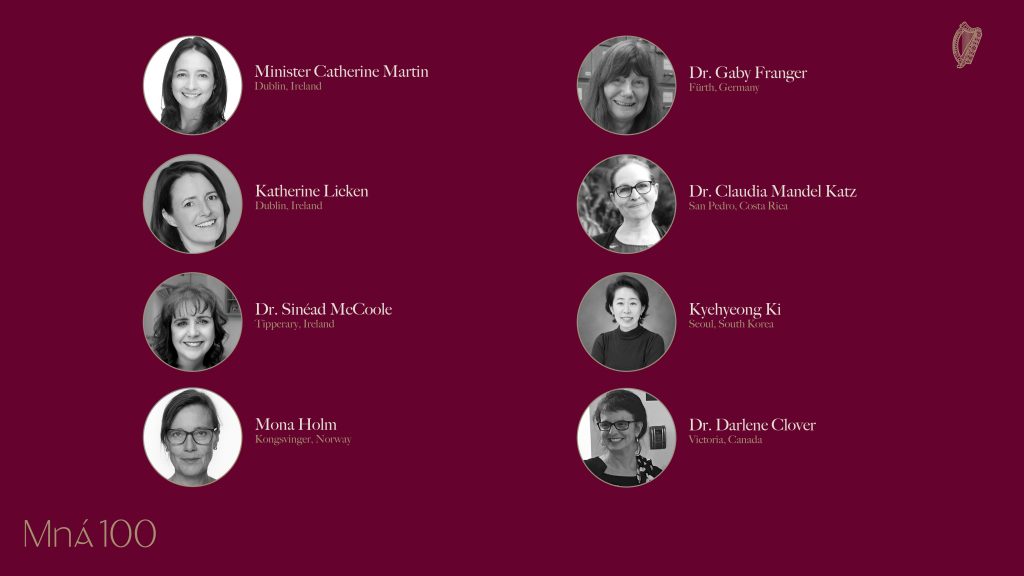 On Thursday the 24th June, Mná100, hosted an online seminar in partnership with the International Association of Women's Museums. This seminar, a public conversation, posed the question 'What would you put in a Women's Museum? Past, Present & Future'.
The seminar featured speakers from Norway, Germany, Costa Rica, Korea and Canada and an audience that joined from Ireland, England, Scotland, Wales, Northern Ireland, the United States, Egypt, Switzerland, India and Italy.
The panel of speakers discussed a wide variety of interesting and timely topics – political activism, bodily autonomy, violence, the church, domestic lives, highlighting the diverse cultural perspectives and history of women's civil rights across the world. This is a summary of some of their talking points along with quotes that may be of interest.
Dr Mona Holm – Kongsvinger, Norway
(Timestamp – 01:03:40)
Dr Holm is the curator and leader of the Women's Museum of Norway and Chairwoman of the International Association of Women's Museums since 2015. She was part of co-founding the IAWM in 2012.
Dr Holm gave information on the International Association of Women's Museums, the 100 member museums including 21 virtual museums and 47 initiatives. She described that the first women's museum conference was held in 2008, Merano in Italy and the network was formed four years later.
Dr Holm spoke of the Women's Museum of Norway celebrating its 25th anniversary with a new publication looking at the collection and collection practices over this time. There She Goes Again has just been published as a booklet of 'museum tools'.
The talk looked at Norway as a world leader in gender equality – but what has this meant for the museum sector? She also discussed that at the 2018 Museum Network for Women's History, members shared their experiences with attempting to achieve gender equality within their own institutions. But was that feedback positive? (Timestamp – 1:13:25)
Holm's speech stressed the importance of social media, co-organisation, meetings and exchanges. Another publication she discussed was: Who said What? Women, Men and Language (Timestamp – 01:18:30). Which gender had the bigger contribution – men or women?
She addressed the question of what objects should be included in women's museums: should it be objects belonging to women carrying out traditional roles – or objects belonging to non-traditional roles undertaken by women? She concluded that an extensive collection is needed to represent all types of women and posed the question – so what should we not collect?
Dr Holm discussed the importance of an object's context, not the object itself. Objects become the means of telling its former owner's story. Her example is a simple washer board, belonging to a local politician who was head of the Social Board but it was donated as the owner was still using traditional washing methods in the 1980s. (Timestamp – 1:24:43)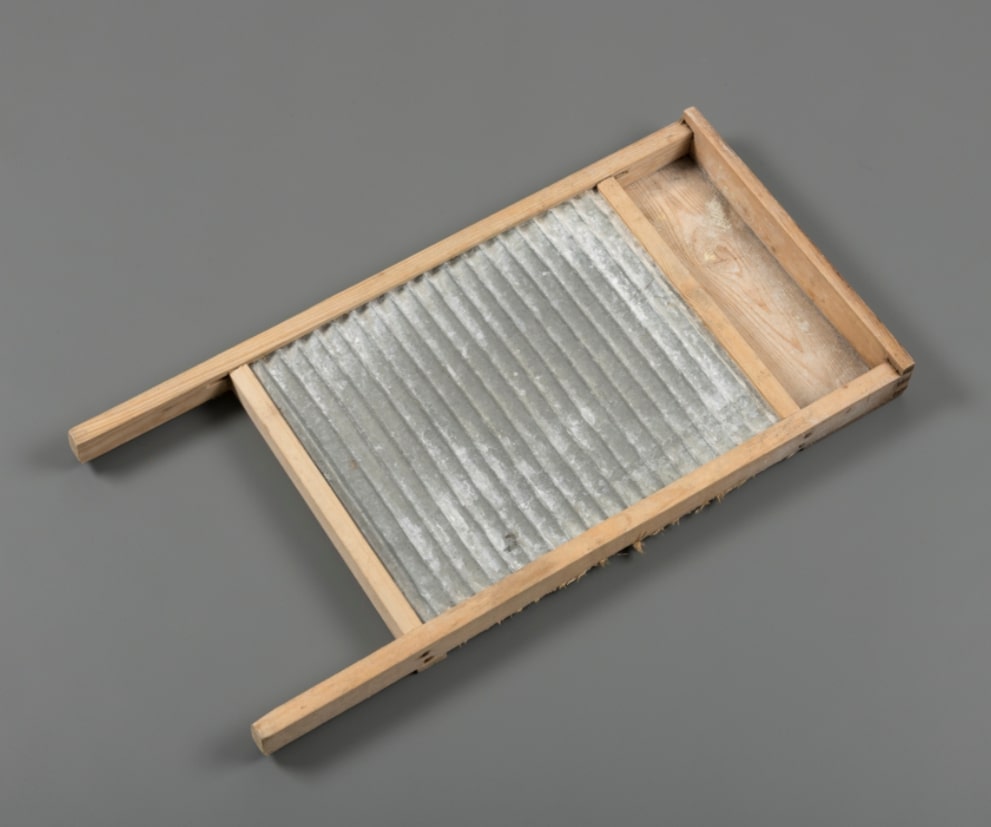 Dr Holm highlighted SHHHH! Stories of Abortion and Sexuality, an exhibition that has just open exploring how to represent such types of women's activist history. (Timestamp – 01:29:40)
In her conclusion she talks of common aims of all women's museums, working from the inside to the margins to make sure that women have a history. She says that the constant question is – who are women's museums for?
She concluded saying the Women's Museum in Merano, Italy sums the answer this question very well, they are "Created by Women for Everyone."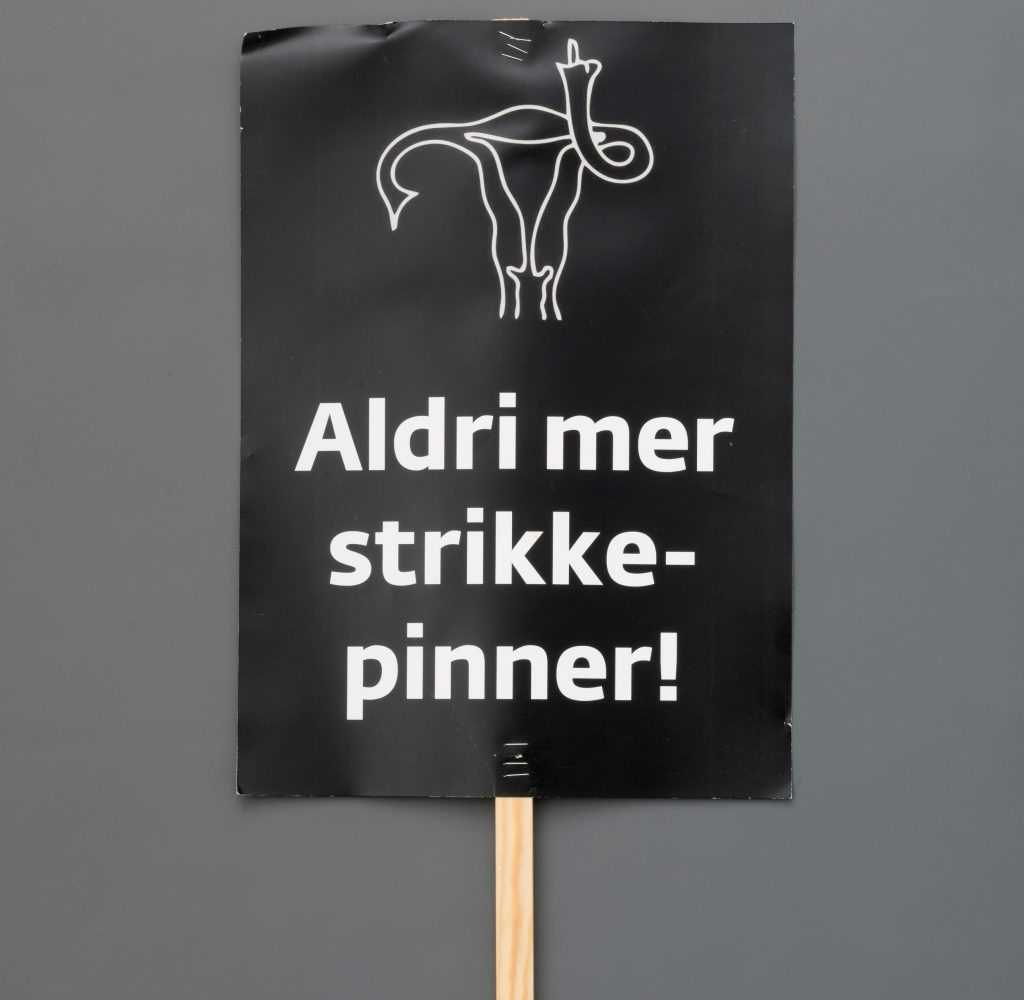 Dr Gaby Franger – Furth, Germany
(Timestamp – 01:43:00)
Dr Franger is the Curator of the Museum Women's Cultures Regional- International and a Board Member of the International Association of Women's Museums. She was a founding member of Women in One World which was founded in 1989 and since 2006 it has run as the Museum Women's Cultures Regional- International.
Dr Professor Gabriella Franger holds a PHD in Social Science, History and Pedagogy. She discussed the approaches in their museum's history and how its foundation was born out a long process from activities for women's rights and educational work for inter-cultural understanding within a political climate of xenophobia and racial conflict in the 1990s. Women in One World – centre for intercultural women's everyday lives and international exchange was founded by researchers, artists and educators. It was an interdisciplinary forum for cross cultural studies and international solidarity. It celebrated 30 years in 2019. The museum opened in 2006.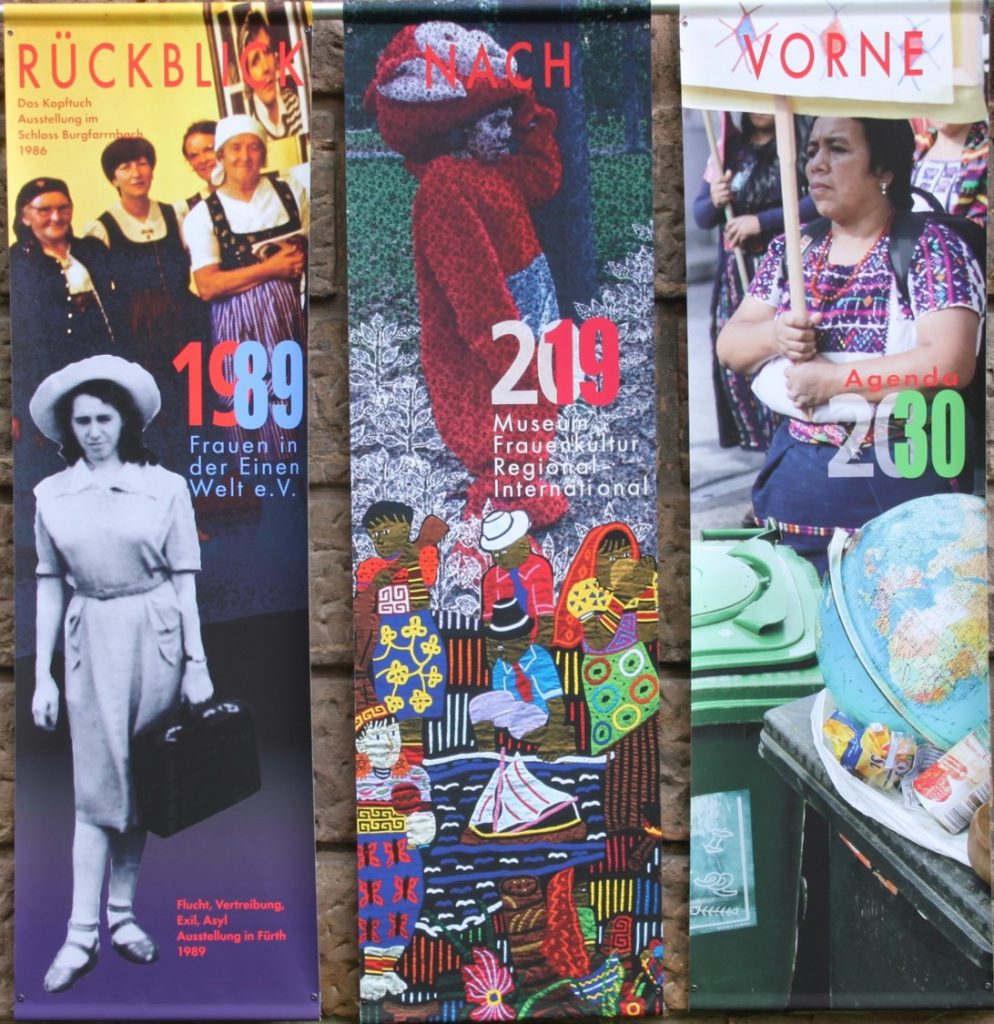 In her contribution she described the importance of the work in women's museums for those marginalised. Her talk covered their exhibitions and their goal of engaging in intercultural and transcultural dialogue.
She looked at the head-scarf as an object – asking the question: What is obscuring our gaze on other women? The headscarf, the veil or our preconceived ideas? She spoke about headscarf wearing as a multicultural tradition and the loss capacity of traditional headscarf making in Germany. (Timestamp – 1:24:43)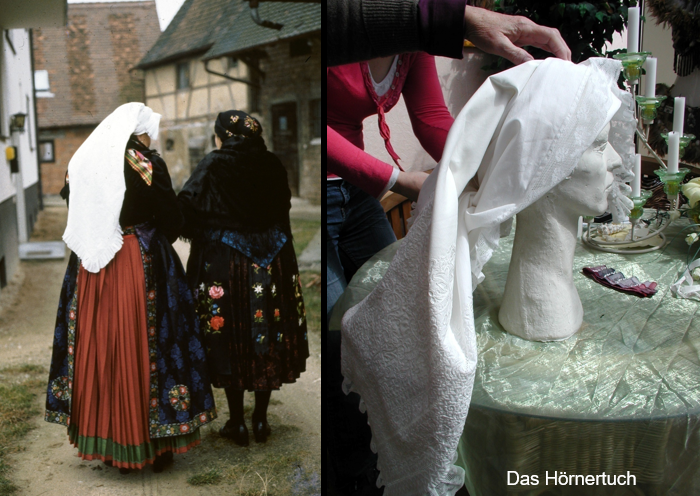 Dr Franger talked of biographies of women and the museum as a place to tell women's stories without fear. She also talks about forgotten women artists, scientist, political activists, who are also women from next door. Explaining that they are important role models for young female visitors.
Dr Franger discussed the portrayal of women not as victims but rather as 'Active Agents'. She talks of women who take their fate into their own hands and transform their experienced suffering into stories of hope and survival. (Timestamp – 1:50:00)
She discussed how her work in Germany looks at issues of 'common concerns' across the world, by showing the social structures against the backdrop of women's everyday lives. See some of her favourite items: Three Cultures Common Concerns. (Timestamp – 1:51:12) The tasks of women's everyday life for Kalyani from Chennai, India embroidered in a quilt, called 'Survival in Daily Life'. (Timestamp – 1:52:40)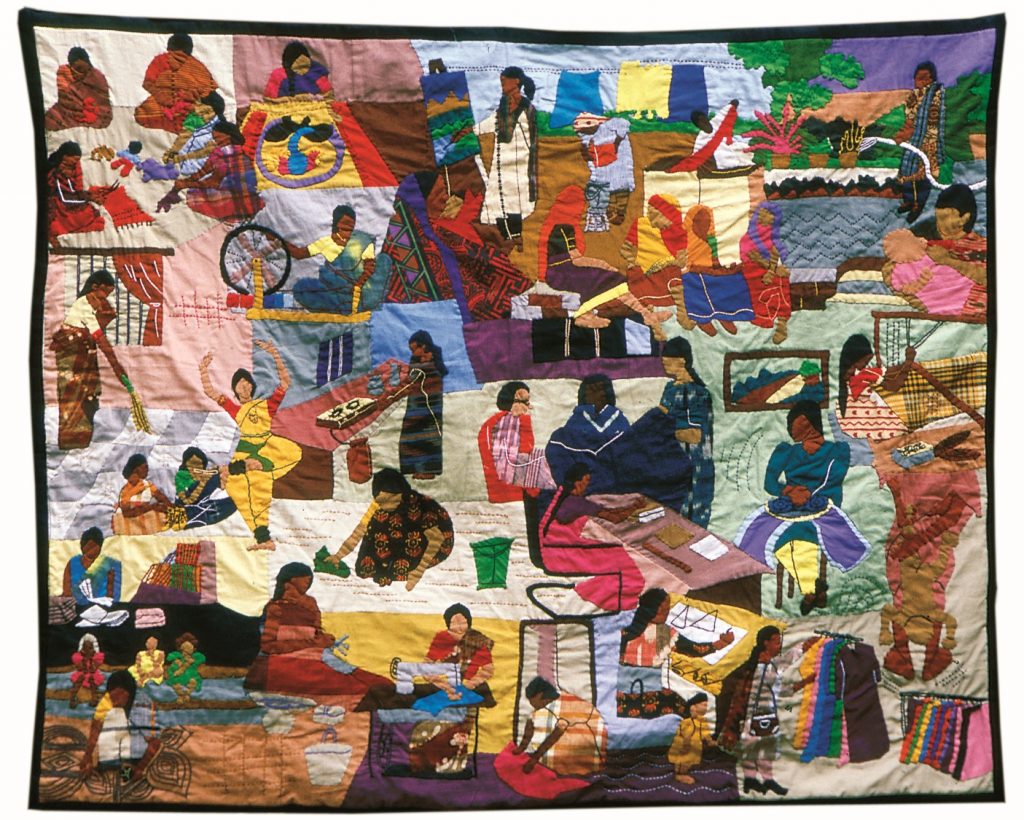 Dr Claudia Mandel Katz – San Pedro, Costa Rica
(Timestamp – 02.06.35)
Dr Mandel Katz the Founder and Director of the Women's Museum of Costa Rica, since 2009 as well as a Board Member of the the IAWM. She has a BA in the History of Art from the University of Buenos Aires, Argentina, an MA and a double PhD in History, Social Studies and Culture from the University of Costa Rica.
She is the author of a number of books including Map of the Female Body, A deconstructive reading of visual creators in Costa Rica and Aesthetics of border Aesthetic practices and violence against women in Latin America.
Dr Mandel Katz opened discussing Costa Rica's response to COVID-19 and its negative impact on the cultural sector. The Women's Museum of Costa Rica is part of a Cultural Emergency Network which is attempting to tackle this crisis. The museum features a permanent collection of artwork from 30 different female artists who work in different mediums such as paint, textiles, sculpture, instillation and video. (Timestamp – 02.08.00)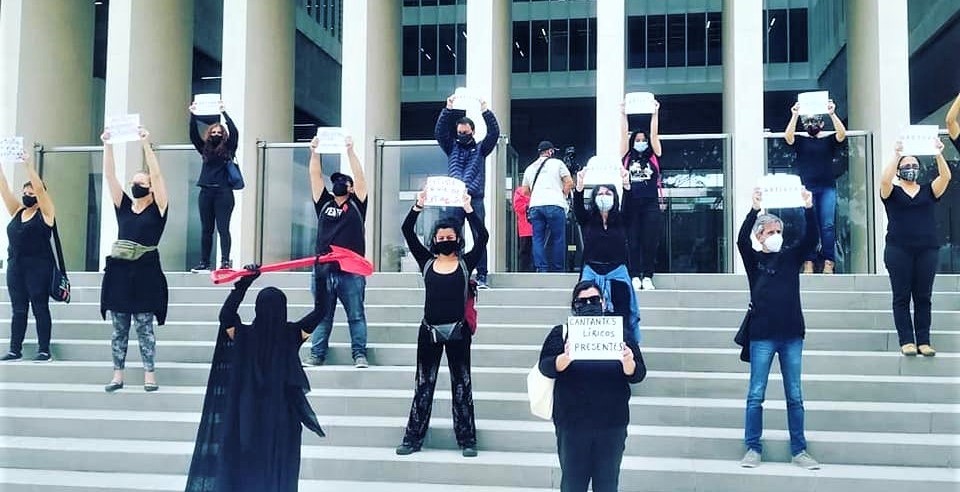 The content of this presentation featured a series of artistic responses – to violence against women, human trafficking, slavery, rape, abortion and the disappeared.
A selection of art works featured in Dr Mandel Katz's talk included:
Examining the issue of violence against women she presented the work Susana Sánchez Carballo Are you having fun? Elisa Algranati, and her work And the children? And Vanessa Biasetti tribute to the violence against women in Latin America, Blues and Pinks. (Timestamp – 02:10:50)

The Female Body was the theme explored by artists – Viviana Debicki – In silence you are prettier. Others works shown were Colectivo Mujeres Públicas The Colonised Women and Lídice González's LIFE photographic essay.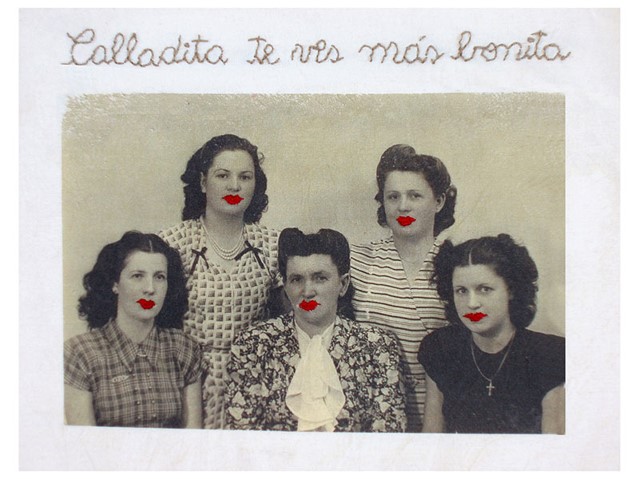 The theme of Intersectionality looks at social and political identities and the issues of discrimination, privilege and gender are discussed in photographic essays by Sussy Vargas in Daily Poems, Roxana Nagygeller's in People in their Place and by Anel Kenjekeeva in Everyday (Timestamp – 02:14:20)
Kye-Hyeong Ki – Seoul, South Korea
(Timestamp – 02:24:10)
Kye-Hyeong currently lectures on women's history at Seoul National University. She formerly was the Director of the National Women's History Exhibition Hall, which was the first women's museum in South Korea.
Kye-Hyeong described that there are 1,200 galleries and museums in Korea. She concluded her presentation with the news that the Minister of Gender Equality has given the go ahead for a permanent women's museum opening 2023.
She spoke on the history of women patriots in the Korean Independence Army, showing how they responded to women who had come before them and how their involvement led to the formation of the modern Republic of South Korea. (Timestamp – 02:36:20)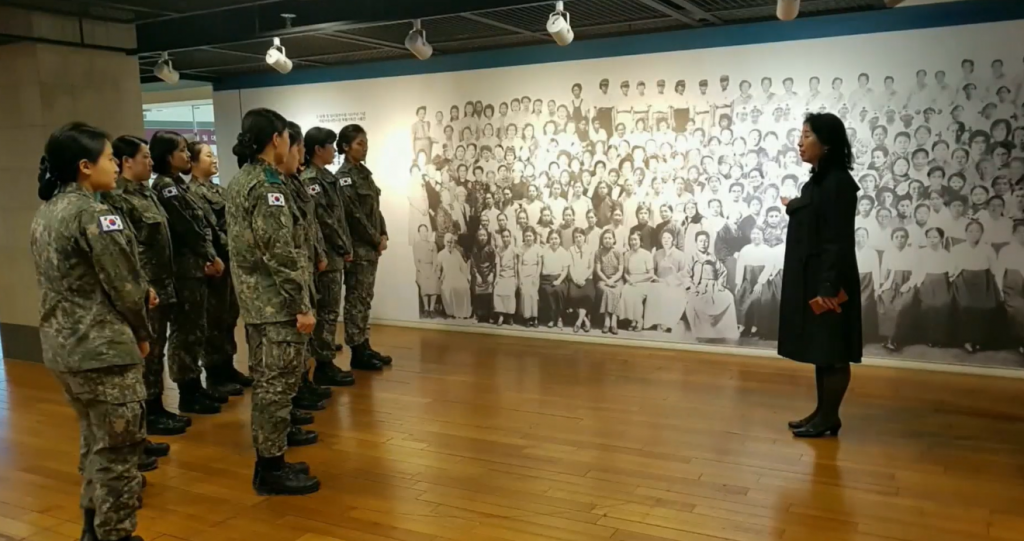 Kye-Hyeong Ki drew parallels between Ireland and Korea, divided islands. She highlighted how the Korean Declaration of Independence was signed by 8 women, and 1,000 copies were printed to be distributed at home and abroad.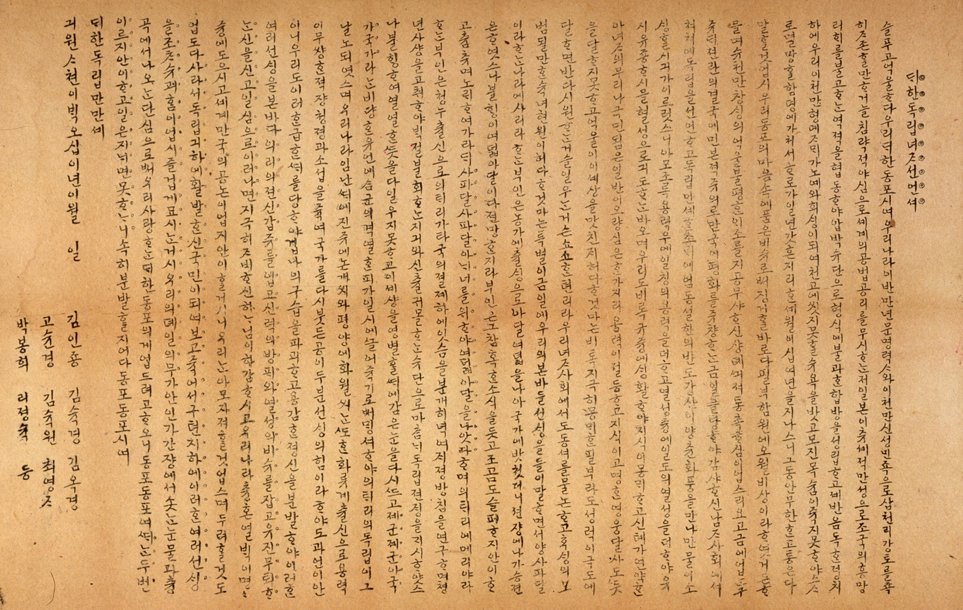 She described her own work with women's museums as not a set purpose, but rather a continuous process. She discusses her book, which explores The Birth of a Women's Museum Around the World.
She also discussed the commissioning of a song to celebrate 100 Years of Korea Women – Shout Out. It can be viewed here: (Timestamp – 2:42:15)
Professor Mary McAleese – Roscommon, Ireland
(Timestamp – 02.46.00)
Professor Mary McAleese was the President of Ireland 1997-2011. (NOTE: Professor McAleese speech is replacing speaker Maissan Hassan, Egypt who was unfortunately unable to attend). Professor Mary McAleese's speech: Flying on One Wing was recorded at the launch of Connaught's Pop-up Women's Museum, 100 Years of Women in Politics and Public Life, July 2019.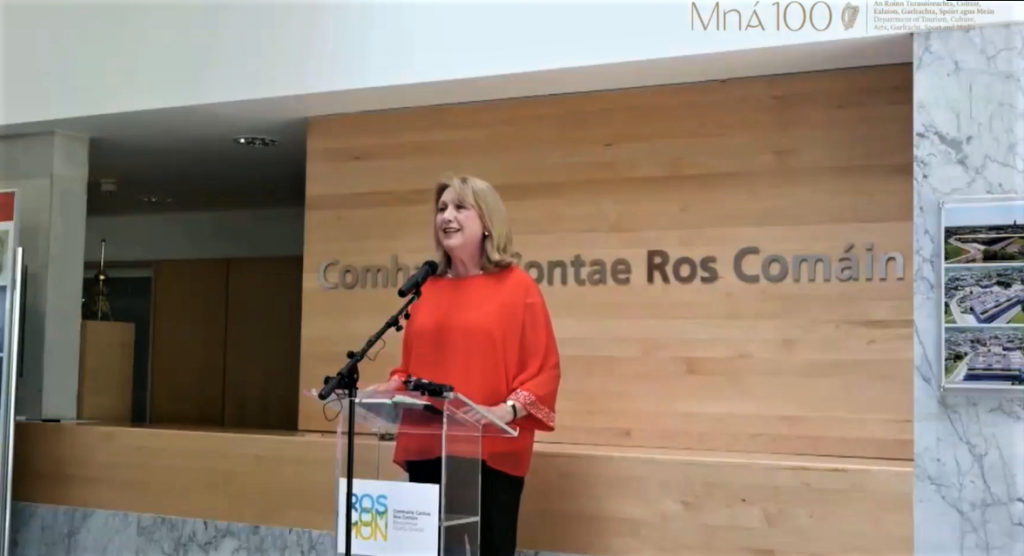 Professor MacAleese spoke of the formation of the Irish nation, and described the context of the time and what it meant for women who had to fight against their contributions being erased from history. Women were resigned to their restricted situation in society. She quoted Seamus Heaney's 'Canton of Expectation', which describes his mother and grandmother's generation as living under 'High banked on clouds of resignation'. (Timestamp – 02:50:40)
Professor McAleese spoke of how women used their wits, intelligence, advocacy, courage and determination to push pass those obstacles. She talked of the empowerment of women in politics and society and how this leads to an empowering of a nation, and the importance of utilising all citizen's talents.
In describing her own mother's support for her ambition to be a lawyer, she states that her mother's response: "Came from her bootstraps, it came from her being" and that the constraints for her mother's generation meant many "Never articulated an ambition." Professor McAleese stated that we want to never again be a country where women say at the end of their lives "I wish I could have done". That we want to be the country that says to women – you can, you will, we'll help you and celebrate you. (Timestamp – 03:08:00).
Dr Darlene Clover – Victoria, Canada
(Timestamp – 03:14:15)
Dr Clover is a Professor of Leadership Studies, Faculty of Education, at the University of Victoria. She is Co-Director of a women's heritage building, the Society of Friends of St Ann's Academy.
Dr Clover is currently spearheading the production of a global video project in association with Research Group of the International Association for Women's Museums. The project is titled, 'Women's Museums – Animating the blank pages of history, the present, for the future' and it showcases the global women's museums movement (Timestamp – 03:20:25).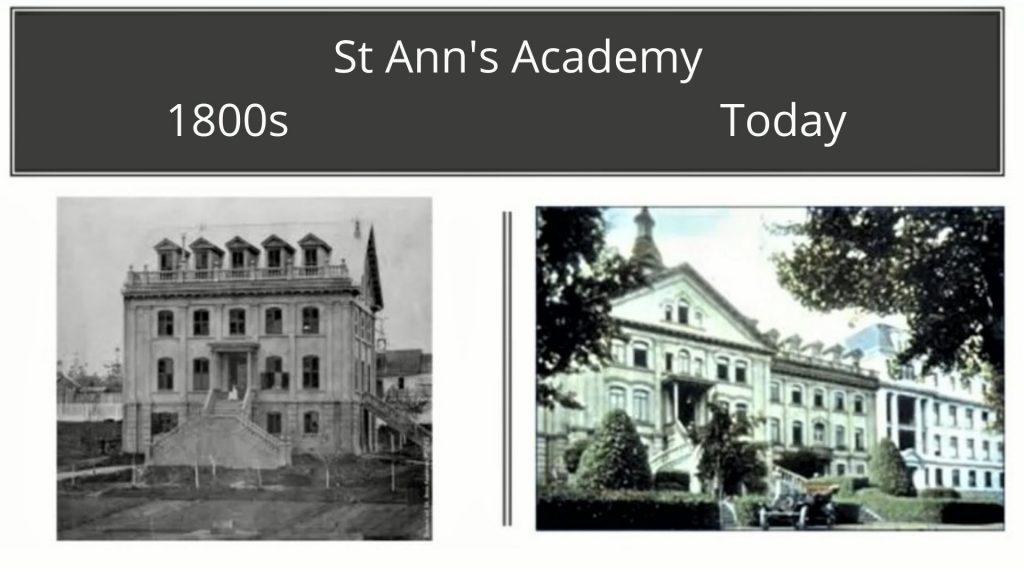 As part of her work with the Society of Friends of St Ann's Academy. She discussed Catholicism, as a colonial power, were responsible for residential schools, where many indigenous children were forcibly taken from their families and placed. She spoke of the thousands of children that died in these schools, how their families were not notified and they were buried in unmarked graves, many only discovered earlier this year.
She describes what a colleague once said 'the importance of keeping difficult company.' She discusses the residential schools the nuns established and their role in the taking of Indigenous children to these schools and their unmarked burials. She describes the burials that have been recently discovered as a national shame. She says that while residential schools no longer exist, they are not history. The devastating social impact of these schools, particularly on Indigenous women and girls, remains very much today. She stated that their own museum is currently regrouping in the light of this. (Timestamp – 03:17:05)
She speaks of how women have been obliterated as holders and keepers of knowledge. The role of women's museums to Dr Clover is to programme historical consciousness, with contemporary epistemic intent – changing the way we see and understand the world. (Timestamp – 3:20:50)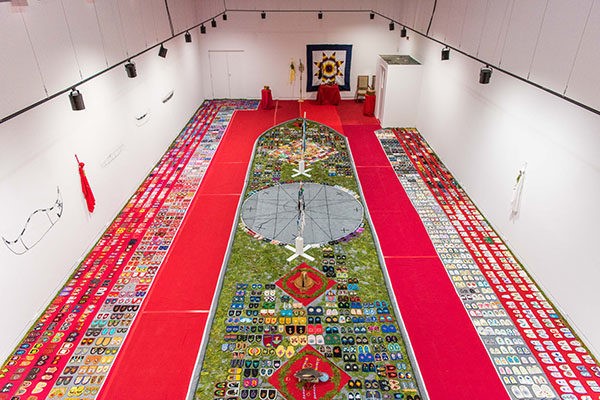 Dr Clover's highlighted object is a series of vamps designed on the tops of moccasins – which is part of a commemorative art instillation titled 'Walking with our Sisters'. The instillation features 1763 hand-beaded, moccasin vamps. Each vamp represents an indigenous woman or girl who was murdered or went missing in the past five years. The vamps speak on Indigenous women's pain and their resistance, bringing them into view through the mobilising power of art. (Timestamp – 03:24:18)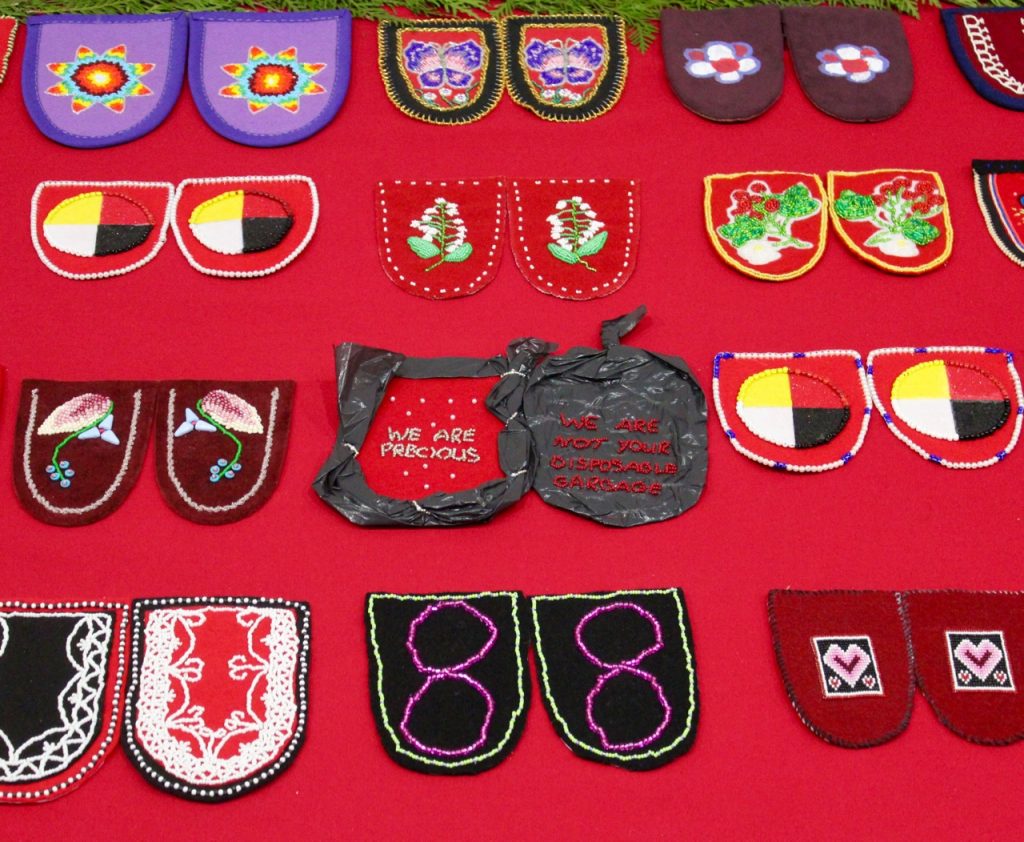 This is a selection of the online contributions and questions, they were sent in from the public via email and through social media channels.
Former Minister for Education, Niamh Bhreatnach:
"I want to hear voices, women's voices. We must remind ourselves that we are not starting from scratch here in Ireland. Collections of women's voices, women telling their stories are already in the collections of our Folklore Commission and the RTE archives. The interviews of Peig [Sayers, Irish author and seanchai] are a wonderful example. I want to hear our stories, from the past, the present and a record of our dreams for the future. The records of the Labour Women's national council are lodged in the Labour History museum. The late Monica Barnes TD chaired a committee of women, including me who in the 1990s hosted an exhibition in the Dublin Civic Museum and produced a publication [10 Dublin Women, Women's Commemoration and Celebration Committee, 1991] celebrating women in the early years of the Irish state." 
Former Tánaiste Joan Burton contributed to the conversation, discussing international exhibitions:
"I have taken time to visit a number: particularly in the United States but also visited general galleries and museums to see how women and their lives and works were portrayed – a lot better than in Ireland! I think it should be a multi-dimensional and representational across the island and the ages and arts Irish women artists are seriously underrepresented in our galleries and museums."
Theresa Loftus, a member of the Monaghan Women's Assembly posed a question relating to what the overarching theme of a women's museum might be – she believes that the biggest issue is finding something that is simply about women – not just about women fighting to be recognised … as being capable and equal with others.
She asked should the museum be all about the landmarks in the battle for equality or should we be including and celebrating talent that women have like sports, singing, music, making peace, the arts, engineers, craft, politics, writing, science …?
Many things that could be included in a women's museum would be relating to the perceived stereotypes of women at different points in history. Is this illustrating how far we have moved forward as a society or is it reinforcing old stereotypes?
Another contributor highlighted the items in Birr Castle – she directed people to 'bright stars in science' celebrating the work of Mary King (later Mary Ward), microscopist, artist, entomologist and author. Mary Ross née Field, photographer and Rachel Parsons who studied Mechanical Sciences and was the Director on board her father's marine steam turbine. She campaigned for, and was part of, the National Council of Women for equal access for women to technical schools and colleges.
Others addressed the question of what objects they thought should be included in a women's museum:
"Something to represent forgotten women. Those who were the ordinary poor imprisoned for crimes that a man wasn't … [the woman] whose black eye the judge ignored because she … offended the notion of the ideal Victorian and post Victorian woman. Not just the great and good please."
"Girls, women who were committed to industrial schools, laundries and orphanages. Our history is relevant, both sociology and historically."
Dr Elaine Callinan commented on the importance on including the diversity of women's political stances and perspectives throughout our history.
"Items to represent the working and domestic lives of ordinary women. Political memorabilia of home-rule women, unionist women, labour women. Heavy emphasis at the moment on Republican women … not ruling them out, but more balance needed."
A number of commentators addressed the importance of including items that represent the everyday women of Irish society, and the items that directly impacted their lives.
Past: Wooden Washboard, Present: Washer/Dryer and Future: Dyson's next bright idea!
Egg scales, raising chickens and selling eggs an important source of income for rural women, but also urban settings. Often [the] only independent income, over which they had full jurisdiction
Textiles, Aran sweater, hand-knitted socks, patchwork quilts
A butter churn, a milking stool, a Child of Mary medal
Fashion should be a key part of this museum! As well as representations of women from across the whole island both North and South.
ESB advertisements and electrical items – women played a key role in the rural electricity was a catalyst for a much better way of life for women because it took away much of drudgery in their lives and freed up time to do other things.
Dr Sorcha O'Brien, Curator of the National Museum of Ireland's Kitchen Power exhibition wrote: "Washing machines, for sure, specifically the twin tub. An example of the Servis Super-twin can be seen in NMI Museum of Country Life, Castlebar." Learn more here
Writer Martina Devlin, suggested the inclusion of: "Contraceptive devices. Because control over childbearing changed women's lives dramatically, opening up possibilities."
The Q&A can be found at: 03.28.00 Tune into the seminar for the answers from our international panellist.
Accepting that we are balancing up the gender narrative of history, isn't there a danger of putting 'women's history' into a silo, separate from the mainstream?
Different stories of diverse women need to be taught/mainstreamed on school and university curriculums on 50/50 basis. What role can museums play in this?
Why does it seem as though many women's 'museums' comprise pop-ups, temporary physical exhibitions or virtual museums?
Are there any concerted efforts for class and race representation in your museums? How do we ensure that we don't keep silencing current voices?
It often seems women are depicted in terms of their relationship to men and children — daughter, wife, mother. Can and should a women's museum change this?
At a time in which women are still slut-shamed, belittled, abused, assaulted and not believed, how will a women's museum depict women of this millennium?
Did anyone on panel experience a challenge to their drive for a women's museum on the basis that it would 'split' resources in an under-funded cultural sector?
How do we envisage this conversation going forward? Whom would you like to see in a panel that would continue these discussions?
How do women's museums elsewhere reflect efforts made to address the over-representation of men in politics?
'What would you put in a Women's Museum?
Past, Present and Future'