Profiling Wicklow Women
Averil Deverell and Kate Tyrrell
1921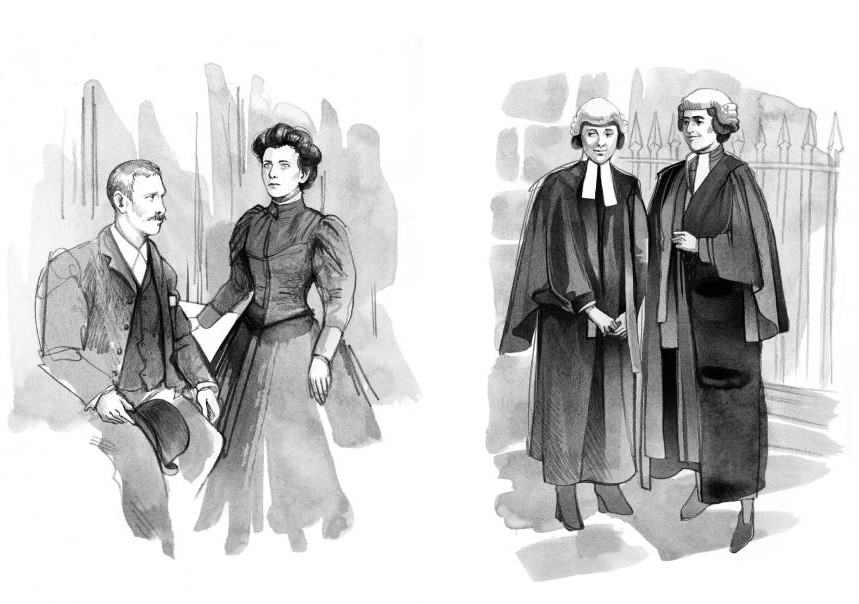 This article was produced by Mna100, in partnership with Wicklow County Council's Decade of Centenaries Programme and focuses on the lives of two women from County Wicklow in the year, 1921 – Averil Katherine Statter Deverell (1893-1979) and Catherine (Kate) Tyrrell Fitzpatrick (1862-1921).
Both women lived in the same county, at the same time. In 1921, they lived very different lives; yet they shared similarities. They both had jobs which, were at the time, not seen as traditionally women's work. Today, it is usual for women in Ireland and abroad to pursue careers outside of the domestic realm. A century ago, however, these two women led the way.
When women's entry into the legal profession was announced, fears were expressed by those already practicing that ladies would 'flood the profession' or that they 'would fail as they lacked the requisite qualities', according to Elizabeth Cruickshank, author of Women in the Law: strategic career management. Professor Colum Kenny quotes Cruickshank in his essay Changes in Practice and Law, Four Courts Press, 2013. Professor Kenny demonstrates the advances of women in Ireland over 100 years – from the publication of Irishwomen's Reform League pamphlet, 'Women's Need of Women Lawyers.' written by 'a Woman LL.B. of T.C.D.'; to the appointment of four women holding the most senior positions in the legal profession in Ireland: Chief Justice Susan Denham (Appointed in 2011), Attorney General Máire Whelan SC (Appointed in 2011), Director of Public Prosecutions Claire Loftus (Appointed in 2011) and Chief State Solicitor Eileen Creedon (Appointed in 2012).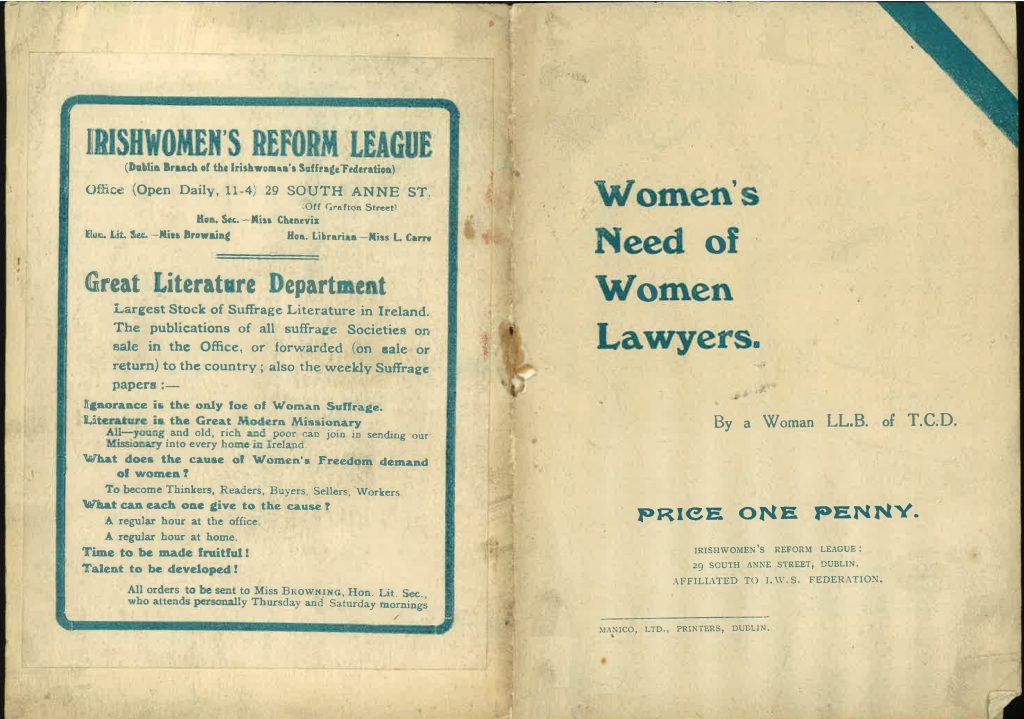 October 2021 marked 100 years since the death of Mrs Catherine Fitzpatrick, remembered as the 'Lady Mariner', who owned and sailed the Denbighshire Lass. She was known in her native Arklow, County Wicklow, by her maiden name, Kate Tyrrell. Her story reflects the lives of women whose work was not recognised by officialdom – she could not be certified as a Captain of a ship. It would be seventy three years later that the Irish Naval Service recruited the first female officers, Orlaith Farrell, from Dublin and Roberta O'Brien, from County Tipperary. Lorna Siggins, in the Irish Times, records their achievement in her article from November 2018, under the headline: 'Meet Ireland's first Master Mariner', in which she outlines the career of Captain Sinéad Reen of the National Maritime College of Ireland.
Frances 'Fay' Christian Kyle
Frances 'Fay' Christian Kyle was the first woman called to the Irish Bar on 1 November 1921 – a gifted scholar, who was awarded the John Brooke Memorial Prize, having received the highest overall grade leading to the admission to the degree of Barrister-at-Law. For that reason, she was the first person called on the day, as noted on her memorial.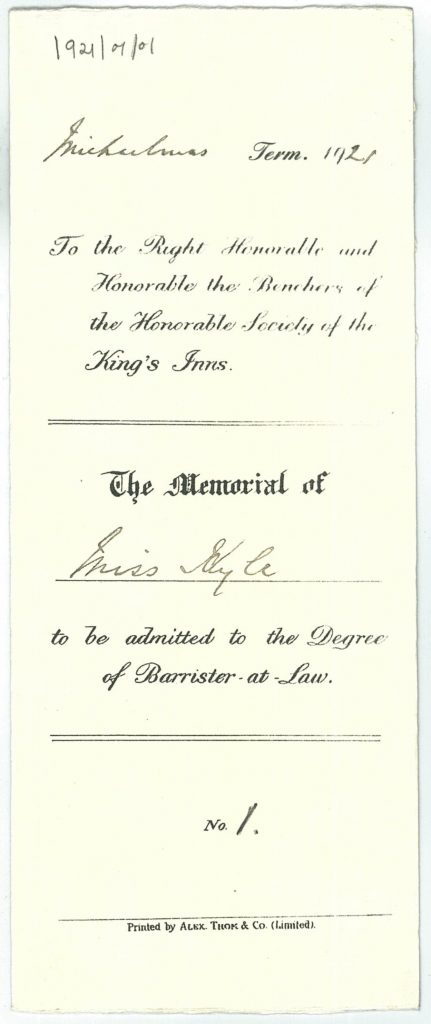 She returned to her native Belfast, where she became the first female Barrister called to the new Northern Ireland Bar and appeared for the first time in a Belfast Court in 1922. Professor Kenny outlines the context of the time – the benchers held a special meeting, to pass a series of resolutions dealing with the consequences of the partition of Ireland and aimed 'in vain' to ensure that both counsel and judges, north and south, would continue to participate in the governance of King's Inns.
Averil Katherine Statter Deverell, who was called to the bar on the same day as Frances Kyle, was the first woman to practice at the Irish Bar. Her early days in the profession coincided with the establishment of the Irish Free State and she practiced for the first fifty years of Dáil Éireann, retiring in 1969. She was the first woman to appear before the Supreme Court and the Court of Criminal Appeal and, as a junior who had appeared before the Privy Council in London in 1928, was entitled to carry her briefs in a red bag, the first and only Irish woman to gain this distinction.

These Irish women made history, both in Ireland and England, as they were called prior to the admission of any lady to the English Bar. Their stories made international headlines. Liz Goldthorpe, retired Tribunal judge and author, has researched the first women in the legal profession in England, Wales and the Empire, working with Dr Judith Bourne, Head of the Department of Law, Criminology and Politics, St Mary's University, Twickenham. She acknowledges the assistance of Ivana Bacik TD, who generously shared research that she had undertaken in the early 2000s.
Liz Goldthorpe has ensured that Averil Deverell's life features in any discussion of the first women barristers and has spoken at conferences over the past number of years, including one held in the Jubilee Room of the Palace of Westminster in 2018 and another in Middle Temple Hall in 2020. Listen here to part of a lecture series on Pioneering Women in Law on The Inner Temple website.
To recognise their achievements, as a part of the Decade of Centenaries Programme, Wicklow County Council's Arts Office has brought these women to the attention of the wider public by way of talks, artwork, light-shows, and posters, and by this contribution for Mná100.ie. In this article, we look at the records and items belonging to these women preserved for future generations in public collections. What has survived and what is lost? What do the documents tell us? How do Historians and Biographers do their work, filling the gaps in knowledge? Why are some people remembered and others forgotten?
We celebrate the people who work to preserve that memory for future generations: authors, biographers and historians (a word that has become common in popular culture is Herstorians. The word historian, does not derives from 'his story' rather historia which means to acquire knowledge by investigation).
Historians have a job to do but their task is only possible because of the preservation of material by individuals and the work of librarians, archivists, and museum curators, and those who select, digitise, conserve and preserve these historic artefacts. It begins with the material being retained, and one hundred years on, we find out their stories through the fragments that have survived.
In this article we focus on the archive of Averil Katherine Statter Deverell now in the archive of King's Inns, Dublin and artefacts relating to Kate Tyrrell's life which are part of the holdings of the Arklow Maritime Museum.
Ellesmere, Church Road, Greystones had been Averil Deverell's home, from her youth in the 1910s to the 1970s. She had seen many changes during her lifetime – Greystones began as a small coastal village, with its annual influx of summer visitors and a permanent population of fishermen, shopkeepers, professional men and their families, retired colonial civil services, military men and clergy. Over the years, it increased in size, becoming more urban, more diverse and more closely linked to the capital city Dublin, just over the county boundary. A member of the Church of Ireland, her life in Greystones was based around family, friends, and the church. Her community changed from her youth into old age, as Ireland itself changed during those decades. Her father was Clerk of the Crown and Peace for Wicklow. His politics were Unionist, as indeed were most of the Deverell family circle of friends. William Deverell was described in The Weekly Irish Times as a prominent worker for the Unionist cause. Local Historian, Rosemary Raughter, a member of the Greystones Archaeological and Historical Society, has drawn attention to the strong loyalist tradition in County Wicklow, particularly evident in Greystones, with women as well as men involving themselves in Unionist Associations and activities. For more information on Wicklow and Greystones unionist links, see Rosemary Raughter's article: 'Home Rule is throwing many a shadow just now': 'Wicklow women, Unionism and the Women's Declaration of 1912.' Journal of the West Wicklow Historical Society, No 11, 2021.
"However, while Averil was of this background and indeed would be one of those Presented at a Court in Dublin Castle during the visit of King George and Queen Mary in 1911, her early involvement in suffragism, her university education and war work, as well as her subsequent legal career would have brought her into contact and co-operation with those political opinions diverged sharply from those of her parents' generation."

Rosemary Raughter
The importance of local historians has never been more evident than during this Decade of Centenaries. When Retired Tribunal Judge Liz Goldthorpe, working on a book on the first women in the legal profession, came to Greystones, she was able to access a network of informed and connected local people, including Rosemary Raughter and Colin Love. She credits the latter for a key introduction to the current owner of Ellesmere, whose father knew that previous owners, Osborne 'Ozzy' and Betty Spurling, were custodians of several personal items belonging to Averil Deverell, for the past 40 years. They had purchased the Deverell home in the 1975 and in the process managed to acquire the archive as part of the contents of the house.
In 2017, this material found its permanent home at King's Inns. Professor Colum Kenny, honorary bencher of King's Inns and Renate Ni Uigin, the King's Inns Librarian, managed the complexity of the transfer of the material to King's Inns.
These items are preserved in the archive of the place where Averil Deverell entered as a student in January 1920, making history as one of the first women, as she entered following the passing of the Sex Disqualification (Removal) Act of 1919.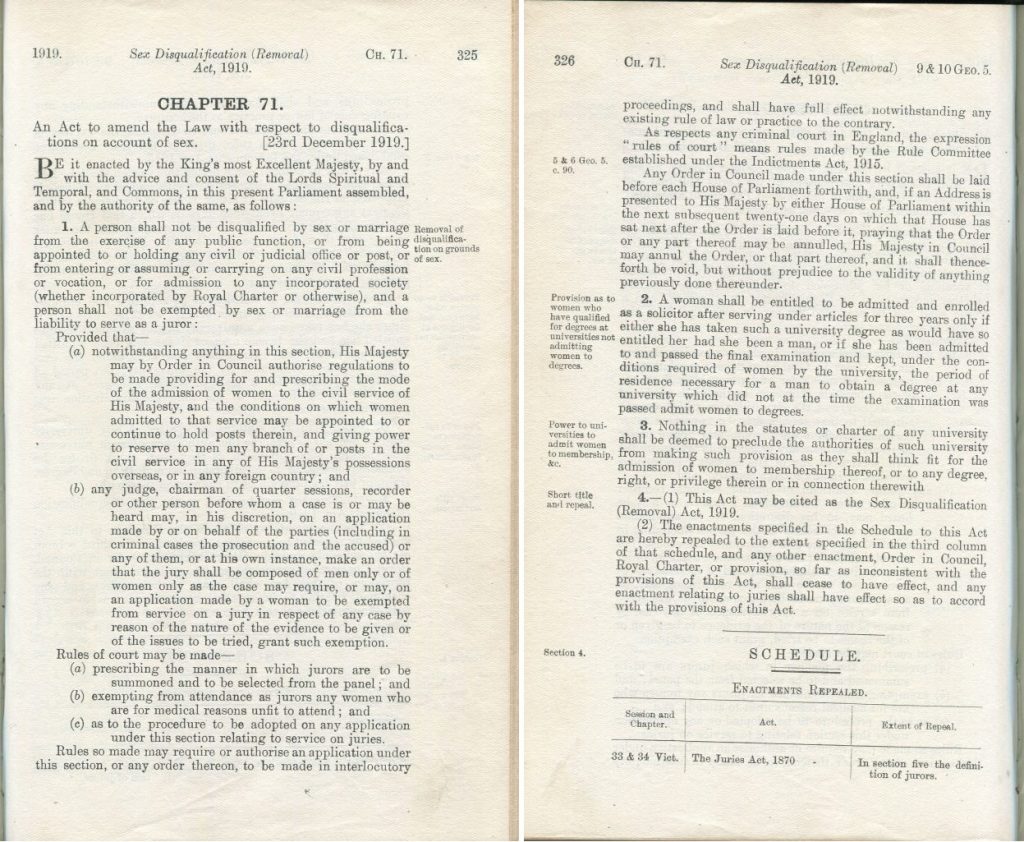 Other items already in the King's Inns Library were Averil Deverell's entry in the Minute Book of the Council, 1917-1918, which was examined by Professor Kenny, (during his own work on the legacy of pioneering women of the legal profession in Ireland) and shows that she was admitted as a student on 8 January 1920, which was, in fact, a few days before Kyle, although both paid on the same day, 11 February 1920. Professor Kenny also found an interesting insertion in the memorial for admission, which notes that Averil was admitted as a student in the Michaelmas term of 1919. The Evening Telegraph of 22 January 1920 reported that the two women's period of qualification was shortened by the obtaining of their Dublin University LLB degree. Both Averil Deverell and Frances Kyle were exempted from some of the commons (dinners) prescribed by the rules of King's Inns, Kyle in recognition of her being awarded the John Brooke Scholarship, and Deverell in consideration of her war service, thus accelerating their passage to becoming the first Lady Barristers called to the Irish Bar in advance of other jurisdictions. Averil Deverell went into the Law Library in Dublin just as Frances Kyle returned to her native Belfast. Frances gave up practice fairly shortly afterwards.
The archive of Averil Katherine Statter Deverell consists of books, a scrapbook, an autograph book, jewellery, some recreational items such as ornate gold edged playing cards, as well as correspondence, portraits and prints. The artefacts are now in the safe custody of the archive of the King's Inns. Librarian Renate Ní Uigin reflects on the importance of this collection
King's Inn were delighted to incorporate the Averil Deverell material into our existing archive. We were always aware of the landmark event of the call to the Bar of the first two women, but the additional materials presented an opportunity to learn more about Averil, various aspects of her life and life in the early Twentieth Century. Two key items that stand out are her scrapbook, and the Brief for her appearance before the Privy Council, giving completely different, but equally significant, glimpses of her personal and professional life.

Renate Ní Uigin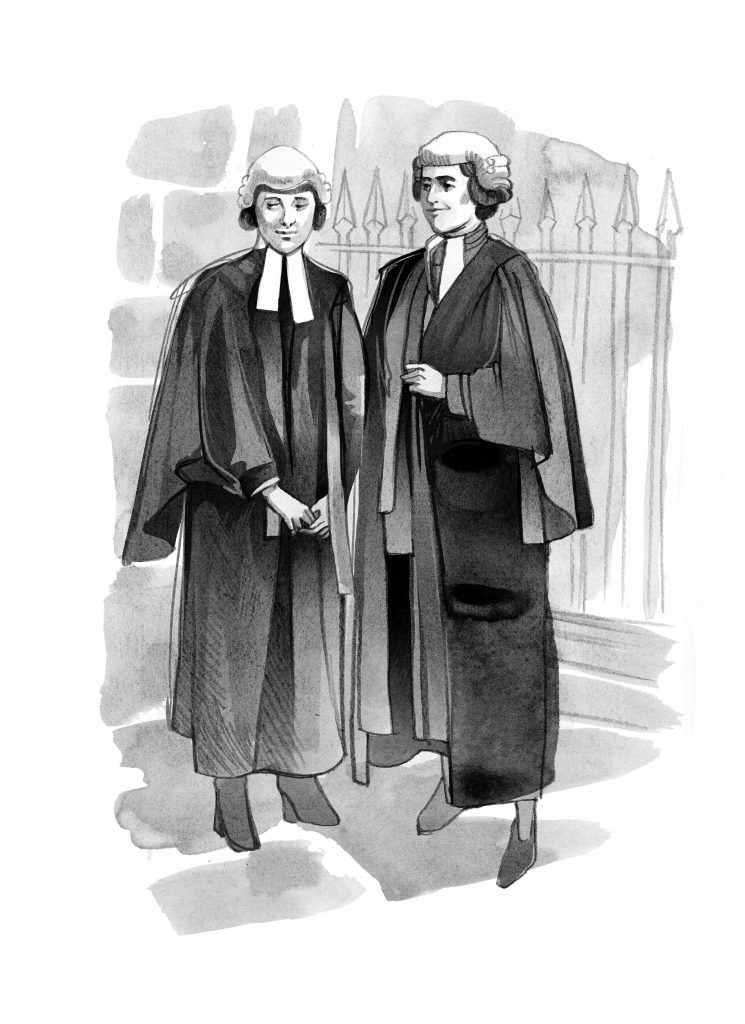 What does the archive tell us?
1911
One-act suffrage play, 'How the vote was won'
Averil Deverell attended The French School in Sidmonton Place, Bray in the early 1900s. There she appeared in many dramatic productions in school. Her scrapbook covering the period 1911-1916 contains dance cards, tickets, and menus – a full array of material documenting her life that is still being examined.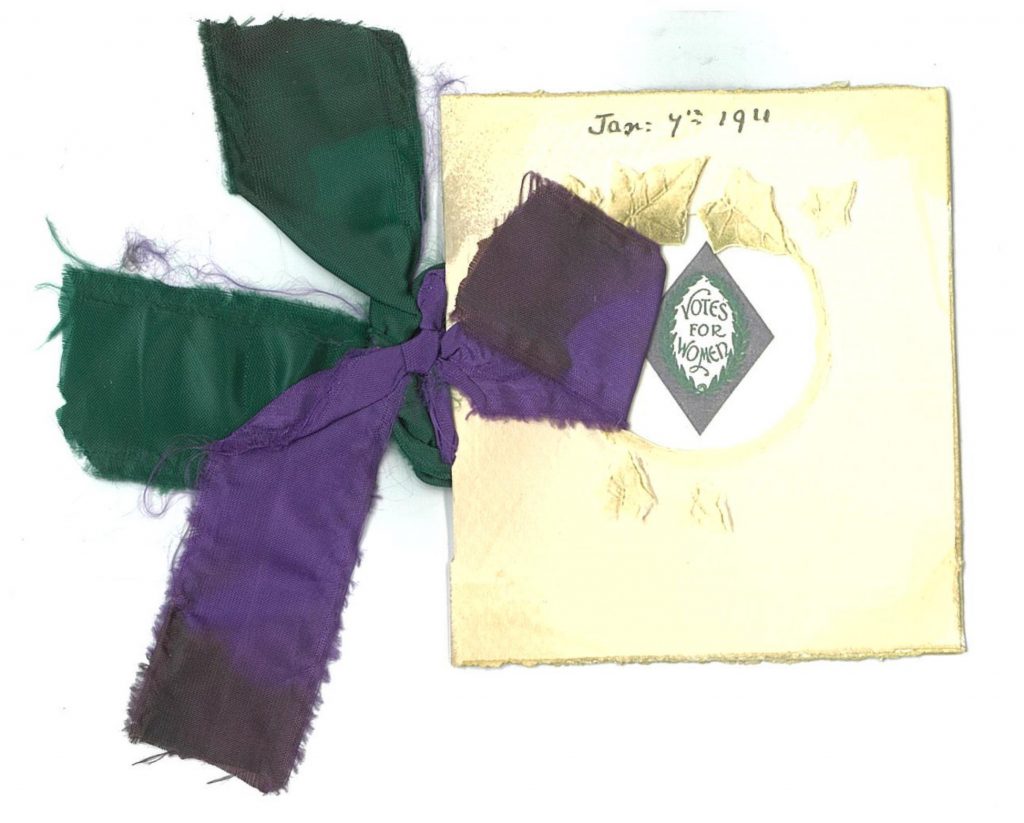 One of the items was particularly poignant at time of the 2018 centenary commemorating the introduction of voting rights for women and their right to stand in parliamentary elections: 'How the vote was won' was exhibited in King's Inns. The handmade script of the comedy based on the concept of an all-out women's general strike, written by Cicely Hamilton and adapted by her with Christopher St John. It was first performed in London in 1909, toured widely, and was performed in Dublin the following year. This was intended as a drawing room performance, and in Greystones its actresses included Averil Deverell who included an instruction for her fellow performers and young friends to wear Actress Franchise League badges. (With thanks to Liz Goldthorpe for this information). The colour significance is important: the suffrage ribbon is, purple, green and white (which are not the Irish suffrage colours popularised by Hanna Sheehy Skeffington's Irish Women's Franchise League, but those of the Women's Suffrage and Political Union, established by the Pankhursts).
Liz Goldthorpe has concluded that it is likely that the play was staged at the West's home. Historian Rosemary Raughter gives more context to this item. In her research on women in the suffrage movement in County Wicklow, she has found reports of Caroline West, (her husband was the well-known Dublin Jeweller) holding gatherings at her home, Mount Offaly, on the Killincarrig Road. Speakers, on one occasion, included the Irish Labour leader Louie Bennett and a visiting American suffragist. Mrs. West also hosted author and suffragist Laurence Housman, when he visited Greystones, during his Irish tour in 1912 – one of Housman's pro-suffrage poems, a parody of Kipling's 'If' was transcribed by a friend in Averil Deverell's autograph book.
Tennis parties were another form of fundraising and in June 1914 Averil' mother Ada Kate Statter Deverell hosted a tennis tournament at Ellesmere to raise funds for the suffrage cause. For more information on the suffrage movement in Greystones and neighbouring Bray, see Rosemary Raughter's article 'Preaching the suffrage gospel in County Wicklow: a Local perspective on the women's suffrage campaign, 1908-1918. Journal of the West Wicklow Historical Society, No 10, 2019, pp47-71.
1911
Formal Photograph Averil Katherine Statter Deverell
Among the photographs in the Averil Deverell Collection is one of her by Lafayette. Then aged eighteen, she was one of the debutantes presented to King George V and Queen Mary in the Throne Room of Dublin Castle. The debutante's presentation at Court, in Ireland, took place in the Dublin Castle, Throne Room and St Patrick's Hall. Her presentation was a white evening gown, which was described as 'full dress'. She fulfilled the requirement to dress in white and a train, with long gloves and with three white ostrich feathers in her hair. Contained also in the archive is the invitation card to the Court at Dublin Castle on Tuesday 11 July 1911, at 9.30pm. Illustrated here. It would be the last presentation to take place in Ireland.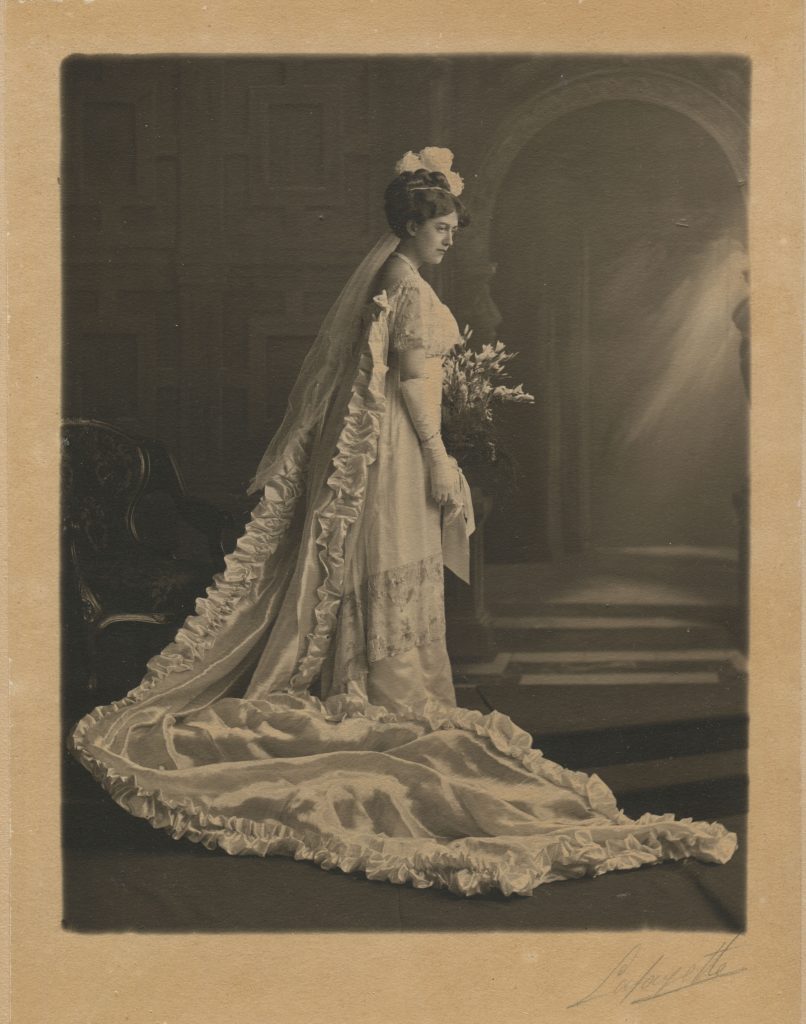 Averil Deverell attended university just over a decade after the first woman was admitted to Trinity College Dublin on equal terms. She and her twin brother William Berenger Statter Deverell attended together and both obtained their law degrees in 1915. Six years later, they were both called to the Irish Bar on the same day.
While Averil Deverell was in Trinity College Dublin, the First World War (1914-1918) was taking place. Averil Deverell became a Voluntary Aid Detachment Nursing Sister at the Dublin University Voluntary Aid Detachment Hospital. She served from 1915-1917 according to the records of the St John's Ambulance Brigade and British Red Cross Society. She also served in the VAD in her home town of Greystones. Averil Deverell saw active service between July and December 1918 when she travelled to France and Flanders where she served as an ambulance driver. (Her father, one of the first men to own a car in Greystones, taught her to drive.) She served in a hospital in Villeneuve-sur-Lot working with the French Red Cross. Her passport issued to her in 1918 is among the artefacts now in King's Inns. For more information on her service in World War One and her Presentation in Dublin Castle, see Liz Goldthorpe's article on Dublin Castle's website. Her Military passport, with her picture which is stamped by the foreign office dated 30 July 1918, can be seen here.
Averil Deverell was in France when war ended. Within a few years she would not only be part of history, she would also be making history. It was her father who is credited with encouraging his daughter to study law, and in 1919 the legislation was passed to allow her to practice. There were also lawyers on her maternal side. Her mother, Ada Kate Statter Deverell, was the only daughter of a London Solicitor, whose family had made their fortune in Russia. Naomi Constance Wallace, Averil's cousin, became one of the first women at the English Bar.
A.K.S. Deverell Barrister-at-Law
A.K.S. Deverell Barrister-at-Law was the first, anFd for eighteen months, the only woman in the Law Library. She was the first woman to write a law report in Ireland. Events of 1922 impacted directly on her professional life, when the Four Courts was occupied and damaged during bombardment in the opening engagement of the Irish Civil War, very shortly after she made her first appearance in court. The Law Library moved to Dublin Castle, where St Patrick's Hall became the Law Library from 1923 until 1931. Illustrated here.
During Averil Deverell's professional life, which spanned four decades, from the 1920s to the 1960s, she served during those first decades of the State when restrictions were imposed on the advancement of women and legislation limited women's involvement in public life, including women being prevented from serving on juries. For context, see 100 Year Journey. Liz Goldthorpe's research has uncovered Averil Deverell's participation in the Bar Golf Society, and her subsequent disbarment due to a sudden change in membership rules: (Averil carried on playing regardless). In 1927, the society voted to restrict membership to men of the Irish judiciary and Bar. This was still in place when Averil Deverell retired in 1969. It was not overturned until an AGM in 1975. That was the year when, due to health reasons, Averil left Ellesmere for the last time.
Supporting her alma mater, women graduates, and women in the law, was something which Averil Katherine Statter Deverell continued throughout her life. When she died in 1979, she left in her will a bequest for the establishment of a lectureship in the Law School, a post first held by the former Supreme Court judge Honourable Fidelma Macken SC. For a fuller account of her life, see: Liz Goldthorpe 'A Quiet Woman?' in the Greystones Archaeological and Historical Society Journal, Volume 9, 2018-2019. You can view it here.
The preservation of memory and the preservation of archives are essential to the stories of women being documented and re-told for future generations. Kate's grandchildren have ensured items relating to the life and the Denbighshire Lass are preserved in Arklow Maritime Museum.
Catherine (Kate) Tyrrell Fitzpatrick
(18 June 1862-4 October 1921)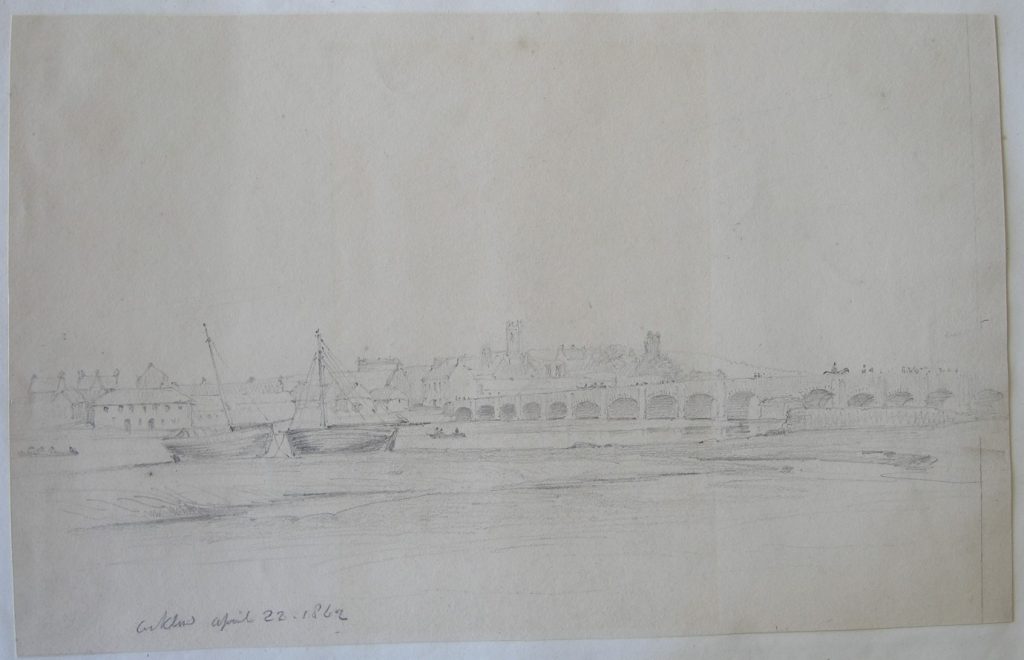 What do the Official Documents tell us about her?
The official documents tell us that of the death of Kate Tyrrell: she is recorded as Catherine Fitzpatrick, was the wife of a Master Mariner, and that she died of pulmonary tuberculosis on 3 October 1921 in a house on a section of Lower Main Street, Arklow. Locally known as King's Hill. Her death certificate states that she had been ill for six months prior to her death. Her death was registered by her son James, then aged 21.

Her gravestone was later erected in the St Gabriel's Cemetery, Arklow, by her daughter Elizabeth 'Lillie', who was just sixteen years old when her mother died. Her son, James Edward died in 1947, and was buried there too. He left a widow Ellen and four children, Michael, John, Charlie and Kathleen, now Mrs MacBride.
Lillie, who became Mrs Mahon, stayed on living in Arklow. She kept the memory of her 'dear mother' alive. Not alone by erecting a memorial stone, but in her preservation of the stories, artefacts, and documents, and instilling an interest in her mother and her story in her own children, David, Cora (Mrs Redmond), Leila (Mrs Whelan), John and Angela (Mrs Power). Her youngest son John Mahon, in particular, continued to keep his Grandmother Kate's legacy alive by writing a biography of her, entitled: Kate Tyrrell, 'Lady Mariner' The story of the extraordinary woman who sailed the Denbighshire Lass. The book was published by Basement Press, an imprint of Attic Press in 1995 with the assistance of the Arts Council.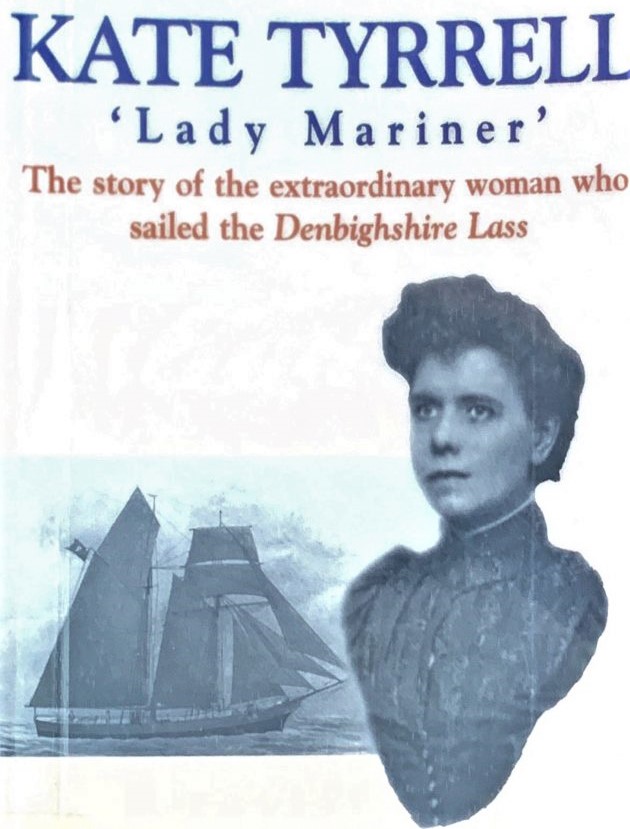 John's interest in the history of his native place was dated by him to 1957. His grandmother's story was still in living memory, accounts of her life were given to him by older people (including a relative Bessie Lynch). Bessie told him stories of his grandmother and the town of Arklow, of her growing up in the Fishery, of the seafarers and voyages to far distant lands. He was shown a red ledger (now destroyed) by a man who lived in the Fishery where his grandmother was listed as Captain of the Denbighshire Lass. He later found records confirming his grandmother as the managing owner, in the General Register and Record Office of Shipping and Seamen, Tower Hill, London. In his own childhood home, in Arklow, there were objects – the starboard light – speed logs – and a painting by Ruben Chapell (1870-1940), a British artist who specialised in seascapes which captured on canvas the Denbighshire Lass.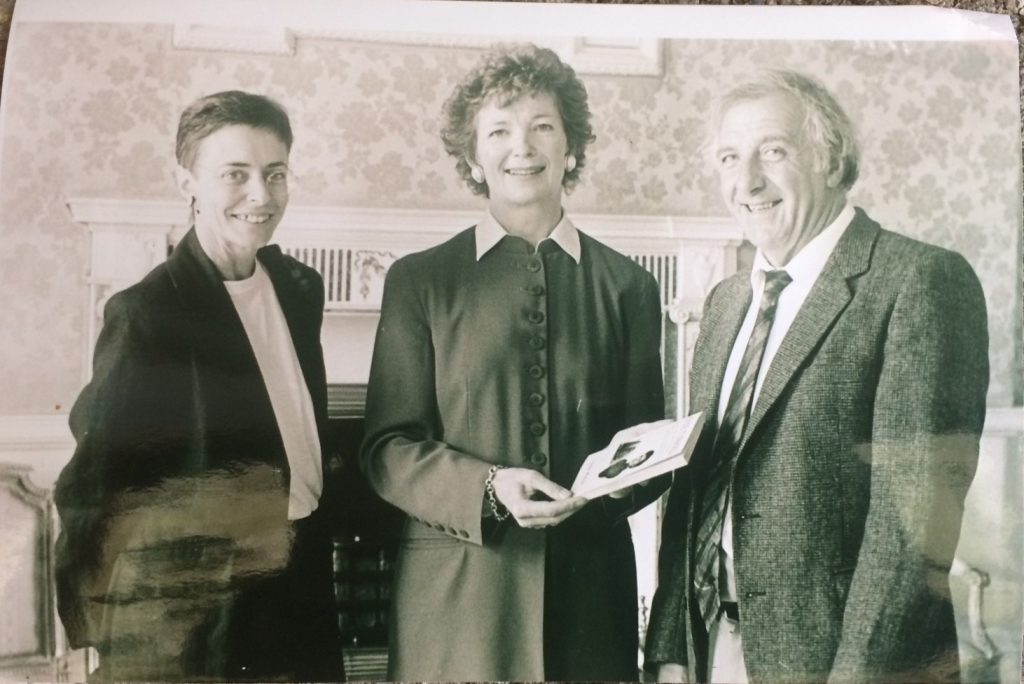 When John was a boy, the ship was long gone, but he researched all the details he could find. He found records – she weighed sixty-one tons and her stern was rounded. Her first owners were James Jones & Co, and she had been registered in the port of Beaumaris, Isle of Anglesey, exactly one hundred years before he began his boyhood fascination with this schooner and her link to his family history. She had been first launched in August 1857 in Flint, Wales on the estuary of the River Dee. She was used for coasting from Merseyside, in the North West of England, before it was bought and brought back to Arklow, County Wicklow by his great grandfather, (Kate's father) Edward Tyrrell. The schooner was 29 years old when she was brought to Arklow by Kate's father Edward in 1886, six years older that Kate herself, who was then 23 years old.
Tyrrell was then, as it is now, a name synonymous with Arklow's ships and shipbuilding industry. It is estimated that today there are up to 10 different branches of this surname in the town of Arklow. John Tyrell & Sons built the first motor fishing boat in the British Isles in 1907/8. In 1930s, Tyrrell's The Aideen won first place in an ocean race between Ireland and Scotland. In modern times, Shiela M. Tyrrell of Arklow Shipping Ltd has been described by the Institute of Chartered Shipbrokers as 'arguably one of the most important people in the history of the mercantile marine in Ireland.'
Catherine (Kate) Tyrrell Fitzpatrick (18 June 1862-4 October 1921)
Kate Tyrrell was born in 1862 in the town of Arklow on the coast of County Wicklow. She was born in an area of the town known as the Fishery. People living there were seen as a 'distinct race' and the Fishery has been described as a town within in a town, according to the prolific author Jim Rees, whose books include Arklow: The Story of the Town (Dee-Jay Publications, 2004), and The Fishery of Arklow 1800-1950 (Four Courts Press, 2008), based on his MA in Local History, Maynooth University.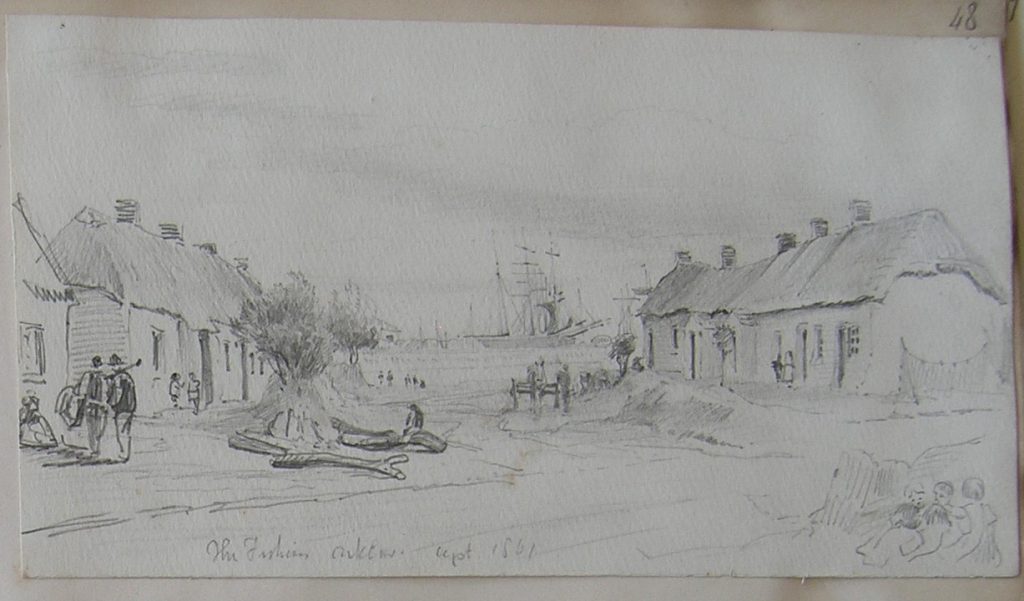 Her mother Elizabeth 'Eliza' Kearon (also given as Kearns) was a native of Arklow. She had been born in the town in 1838. At that time, Arklow was divided into the upper and lower town. It was estimated to have just over 6,000 inhabitants, of whom 1,926 were listed as living in the Fishery. There were 702 houses, which were thatched. There were 200 boats which were used for fishing and oyster dredging, according to Samuel's Lewis, A Topographical Dictionary of Ireland, 1837.
Edward Tyrrell was five years his wife's senior. During their childhood they had both experienced what was known as the Górta Mór from 1847-1851 (a blight that destroyed the potato crop, the staple diet of the poor, leading to the death or emigration of an estimated 2 million people). Arklow, as a fishing community, was more fortunate than other regions of Ireland.
Clothing that can be seen in Arklow's Maritime Museum tells the story of Arklow's long sea faring tradition, a pull-over worn by the Arklow seamen, known as a gansey, very similar to a Norse word for a jumper. This garment was knitted on a single needle, and it had water repentant qualities. These jumpers had distinct patterns (indeed some stitches unique to individual families). This meant that if a man from the locality was washed overboard, even in a distant land, he could be identified as from Arklow. Examples are on display in the Arklow Maritime Museum.
The other industry linked to Arklow from the early 1800s, which employed women and children, was the making of nets. This was an additional source of income for Arklow families. This local expertise continued on, on a much smaller scale, into the early 20th century. As Jim Rees has written: 'The success of a maritime community depends as much on the physical and intellectual strength of its women as it does on the skills and courage of its men.' The women of Arklow were often left on their own for months, while their menfolk were fishing for mackerel in West Cork or for herring in the Irish Sea. Sometimes men were gone for years at a time when they went on deep sea voyages.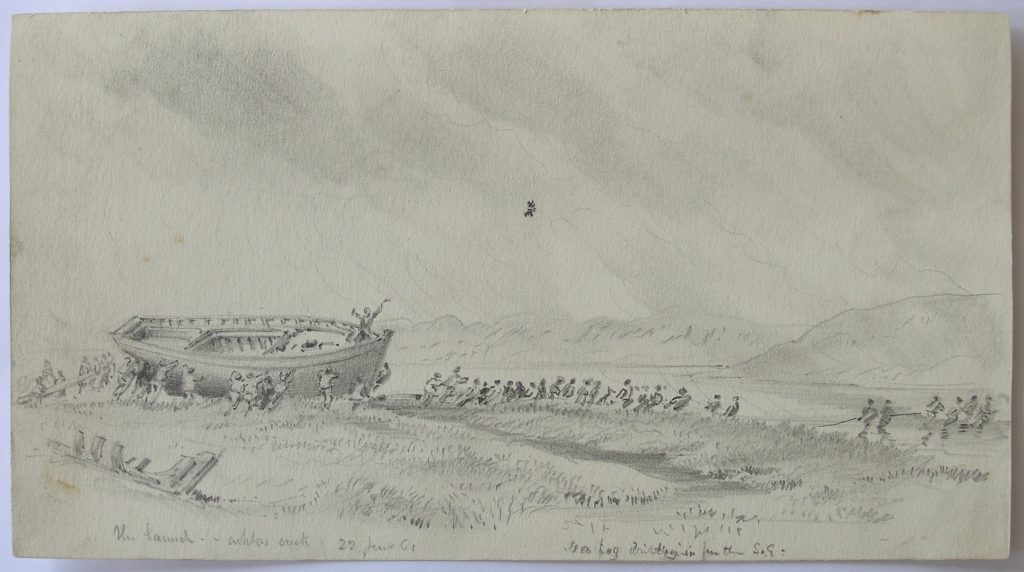 Edward and Eliza Tyrrell had four daughters. The eldest child was a daughter, called Ellen, who was born in 1861. Kate was born the following year. Two years later, another girl was born, called Lucy, and in 1867, a fourth girl was born, Alice (also known as Alecia) in 1867. All four Tyrrell girls survived infanthood and early childhood, which was unusual, as so many children died in their first years. The family stories recorded that Eliza Tyrrell was strict and made sure that Ellen, Kate, Lucy, and Alice, were clean and well-turned out for school. It was also remembered that Ellen was close to their mother, and being 'relaxed and easy going' while Kate described in family stories as having a 'fiery personality' spent time with her father from her earliest years.
From the age of fifteen, Kate joined her father and the Brennans on voyages to the Welsh port of Connahs Quay, Flintshire, within the Deeside conurbation along the River Dee. Her tasks on board included charting the course, navigating, helping with rigging, sails and steering, according to great-granddaughter Paula Redmond in 'Mariner Kate Tyrrell', featured in Ireland's Own. The family lived in a part of the town, Lower Main Street, known as King's Hill.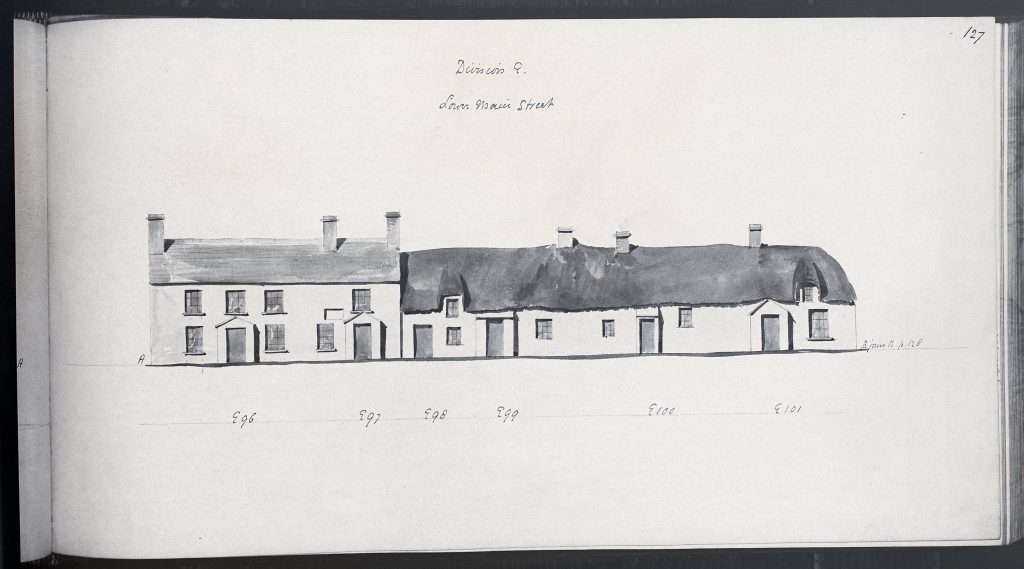 The 1880s were difficult ones for the Tyrrell family. Steam ships were, by the mid-1880s, taking trade from the smaller crafts but trade was brisk enough to have work for smaller vessels. The main concern for Edward Tyrrell and his family was that Alice was ill. She died in her fourteenth year. The family often recalled how bravely she fought for her life. John Mahon describes in his biography of Kate Tyrrell that Alice was 'very like Kate'. Her sister's illness and death 'affected Kate badly.' He describes that 'Her faith was strong, but it was a major blow to watch her sister fight for life only to be taken.' The doctor said she had a fever and he had done all he could. So many illnesses had no medicine to treat them at this time. The doctor noted on the death certificate that Alice had some abnormal swelling but the exact cause of her death was unknown. Her mother, present at her death, had the sad task of registering it some weeks later.

The family recalled that Eliza Tyrrell never recovered from her daughter's death and that for a period of time, Edward stopped sailing to stay close to her. His place on the voyages was filled by John Fitzpatrick – known as Parks – due to his easy-going personality, who came from Wexford. Eliza Tyrrell was, in fact, suffering from cancer and died before the year was out in the Tyrrell family home on 10 December 1882. According to the official record she was 44. Kate was present at her death and she reported it authorities.

Kate took over her mother's duties preparing all the paperwork for her father. As her great-granddaughter Paula Redmond recalled in her article 'Marnier Kate Tyrrell' during her formal education, she had studied book-keeping. As Jim Rees has noted, Women's literacy rates in the Fishery were higher than average. Seventy-nine percent of women could read and write. St Mary's school, run by the Mercy nuns, had come to the town in the 1870s, quickly establishing a school specifically for girls. The results of their success with girls from the Fishery can be seen in the 1901 census literacy returns.
Kate's father was now a Master Mariner. His voyages were to Connah's Quay, Garston or Liverpool, returning with cargo which was discharged at Dublin, Waterford and Courtown in County Wexford. In 1885, Kate went to Connah's Quay when her father purchased the Denbighshire Lass. They sailed to Dublin, registered the ship, collected tiles and returned to Arklow. During the following year, Kate was on board for voyages to the Cumberland Basin and the Bristol Channel.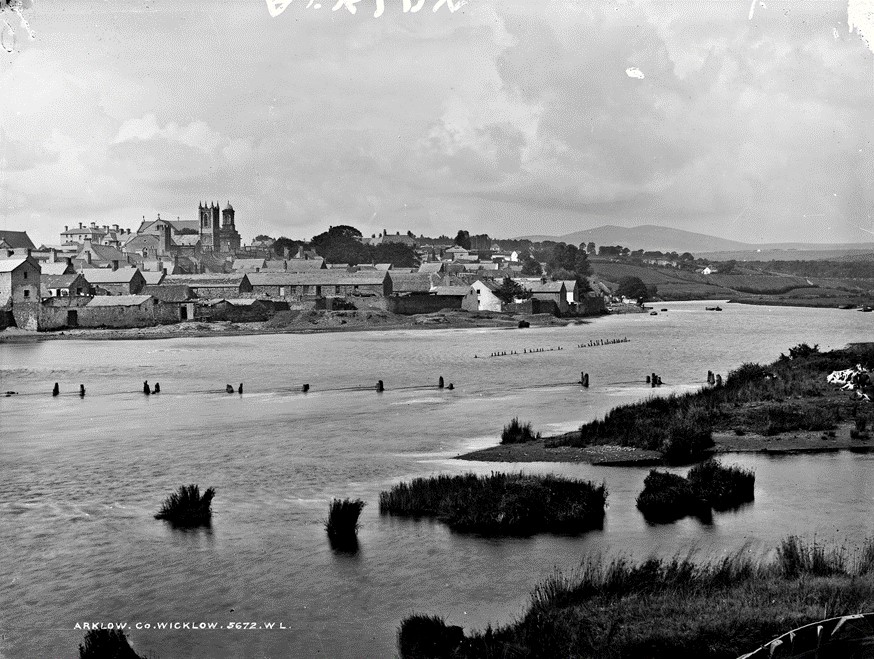 It was just a year later that her father died, on the 9 July 1886 in Garston, England. Garston is a riverside coal exporting area of Liverpool, very popular with Arklow vessels. His body was brought back to Arklow on the Denbighshire Lass. He wanted all his remaining three daughters to have shares in the ownership of Denbighshire Lass, but that was not to be. Two years later, Lucy, who had been ill for some time, died in Lower Main Street. Her health had been very poorly for some time. She had kept house for her sisters Ellen and Kate but was often bedridden during these years. She died on 17 November 1888. She was just 20. It was officially reported that she had suffered from Tuberculosis (TB). Kate registered her sister's death.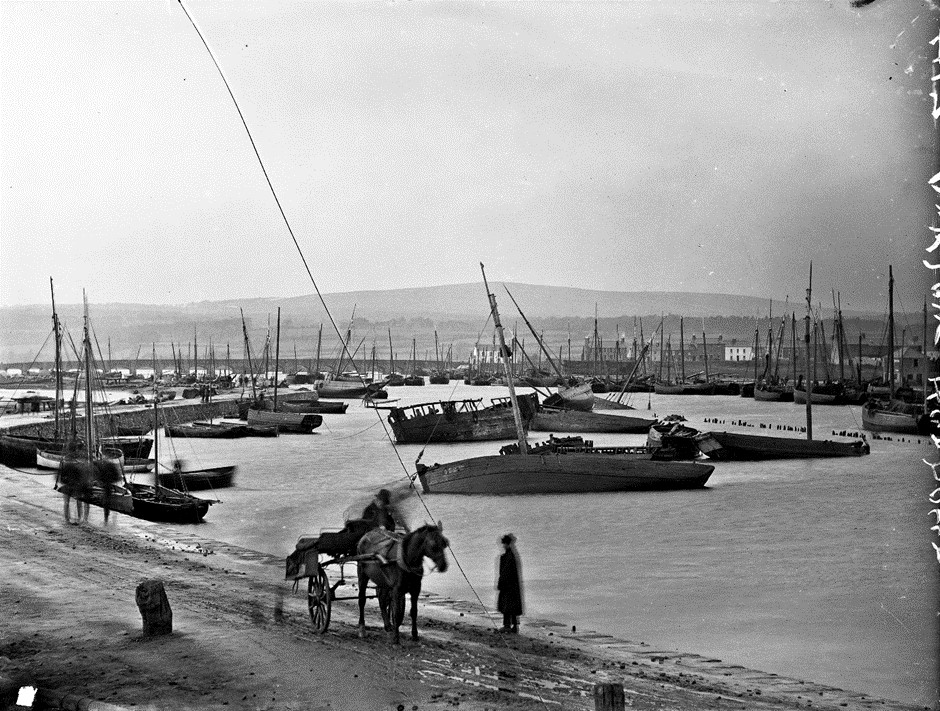 Kate and Ellen remained living together in Lower Main Street, until the summer of 1895 when Kate married John Fitzpatrick. John and Kate had been constant companions as they sailed together for over a decade on the Denbighshire Lass. In July, Kate and John married in Arklow. Kate was 33 years old.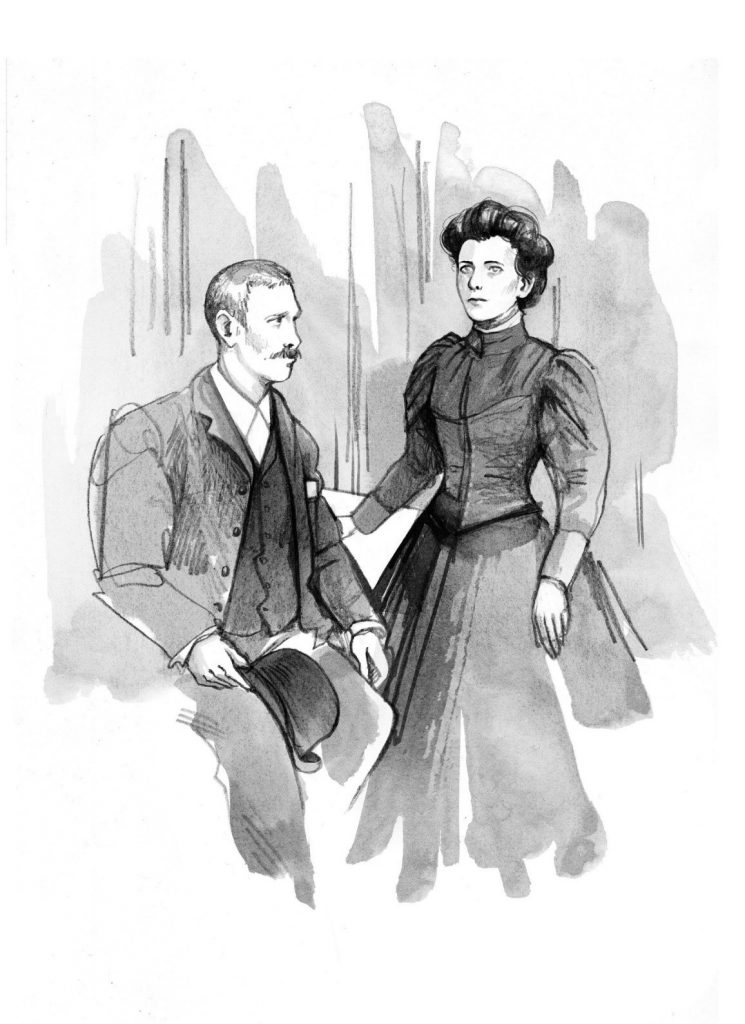 The years 1896 and 1897 were busy ones for the couple, as they worked hard and undertook many voyages. Kate instigated the installation of ketch-rigging, making the Denbighshire Lass faster and easier to manage. By this stage, the ship was thirty eight years old, and the repairs that were instigated kept her in the best shape. They now sailed the schooner in the winter months. Ellen, then aged 36, married Joseph Hyland, a sailor and the son of a fisherman.

Now, according to John Mahon's research, Kate had her share of the Denbighshire Lass.
During his research on Arklow and the Fishery Jim Rees has found other women who were central to their family businesses, like Mary Murray née Kavanagh who skippered the family fishing boat when her husband was a way at sea on other vessels.
In 1901, Kate and her husband are recorded in the census, and here appears the only indication of a break with the norm of the time, Kate Fitzpatrick aged 32 (as she was older than John, she may have adjusted her age) signed the return and is officially recorded as the Head of the Household, witnessed by Royal Irish Constabulary Constable Edward A Lester. John was now a Master Mariner, aged 35. The couple had one child, James Edward (known to the family as Sony). They had a live-in nurse, 19 year old Nannie Fitzwilliam.
In 1905, Kate gave birth to her second child – she was forty-two years old and she and her baby girl almost died. The baby was called after her Grandmother, Elizabeth, and she was also known as Lily. Kate was never again the active woman she had been before Lily's birth.
During the years of the Great War 1914-1918 (now known as World War One) conditions for those in the tramp trade worsened. Now, along with the usual hazard of bad weather, they had to contend with hazards of German U Boats, which sank several Arklow schooners, as recorded in Arklow Maritime Museum. It was also a prosperous time in Arklow, which had its own munitions works with the Kynoch-Arklow Ltd, a factory which had opened in 1895 making explosives, and was now, during the war, making munitions. Hundreds of single women were employed in the factory but company policy stated that they had to leave if they married. This rule was changed in 1914 for the duration of the war and married employees were encouraged to return to the factory.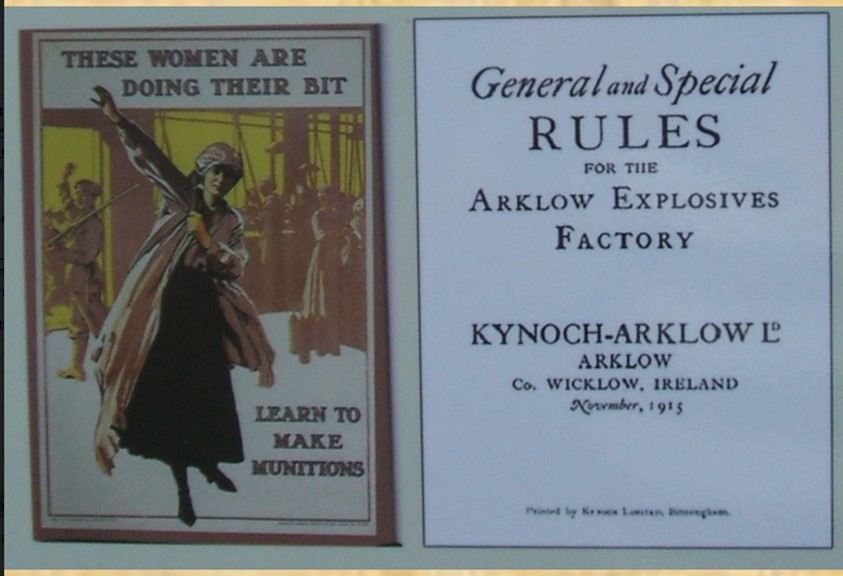 Kate Tyrrell continued the running of the business but did not spend as much time at sea. In 1916, her sister Ellen Hyland died, and this had a profound effect on Kate. The family noted that her health declined further. These were difficult years as the world war continued. Ireland's rebellion at Easter 1916 did not involve fighting in the town of Arklow, as the main areas of conflict were confined to Dublin, Galway, Wexford and Meath. In the years that followed, there was a change of political allegiance and in 1918, Sinn Féin, an umbrella grouping for those who wanted Ireland to self-government, had a landslide victory.
In 1918, Kate Tyrrell oversaw changes to the Denbighshire Lass, which now had a new mainmast and small mizzen, both rigged with gaff and boom sails, as record by John Mahon, and this made the handling of the sails much easier. That year, her son James, now eighteen, sailed with his father as a mate. They made frequent voyages from Waterford to Cardiff. Lily also sailed with her father and brother during these years. Kate remained more and more on land as she had difficulties with mobility.
On 15 January 1920, Arklow Urban District Council declared for Sinn Féin, and Maria Curran was elected. Maria Curran, was then aged 59, the same age as Kate Tyrrell. The daughter of a local blacksmith, Matthew Curran, Maria had grown up in a nationalist household. In 1914, a boat that she owned was used when arms were landed at the Wicklow port of Kilcoole to arm the Irish Volunteers. She was one of the first women councillors in Ireland and the first women to chair an Urban Council anywhere in Ireland. Maria Curran was a member of Sinn Féin and Cumann an mBan. Her nephew, Matthew Kavanagh, was Commandant of the East Wicklow Brigade of the Irish Republican Army during the campaign for independence. On 19 March 1920, Arklow UDC became one of the first local authorities to pass a resolution recognising Dáil Éireann. … this council hereby acknowledges the authority of Dáil Éireann as the duly elected government of the Irish People … During the period of the War of Independence, the council meetings were subject to police raids between meetings. Maria was known to have hid the council minute book in the belfry of the chapel across the road from the courthouse where meetings were held.
Kate Tyrrell's support of Irish self-determination was well-known as she flew on the mast of the Denbighshire Lass what was described as a 'Fenian Flag'. (During the 19th century, the Irish Republican Brotherhood known also as the Fenians – had several flags and the most common one was green with a harp). Kate had lived to see a Truce in the fighting and the beginning of talks of a peace and a settlement during the summer of 1921.
In the autumn of 1921, Kate's health deteriorated further, and she was now suffering with Tuberculosis (TB). During the first days of October, Lily sent word to her father and brother to come home, and when they arrived, her mother was close to death. Now with her family around her, she died on 4 October 1921.
After her death, one of Kate Tyrrell's final wishes was fulfilled by her family. Following the negotiations, the Articles of Agreement for a Treaty between Great Britain and Ireland were signed. The tri-colour flag that had long been in storage on the boat, was flown from the mast of the Denbighshire Lass. The first time it was flown was in the north dock in Welsh port of Swansea. The day it flew from the mast, it caused a stir among the different nationalities in the port, – indeed, a group of Italians thought it was their flag. It is believed to be the first schooner to fly the Irish tri-colour in a British port.
For our younger readers with have information poster available on Scoilnet which you can access here.
This article was written with the assistance of –
• Deirdre Burns (Heritage Officer in Wicklow County Council),
• Sarah Connaghan (of the Royal Society of Antiquaries of Ireland),
• Eileen Fitzgerald (of Wicklow County Council),
• Judge Liz Goldthorpe, Liz Kelly (of Wicklow Arts Office),
• Professor Colum Kenny (Emeritus Professor, B.C.L., Barrister-at-Law, Ph.D),
• John Mahon, biographer and grandson of Kate Tyrrell,
• Gerlanda Maniglia (Local Studies Librarian in Wicklow County Council),
• Berni Metcalfe (of the National Library of Ireland),
• Renate Ní Uigin (Librarian of King's Inns),
• Illustrator Lauren O'Neill, Rosemary Raughter (Historian and author),
• Jim Rees (MA Local History, Arklow Martime Museum),
• Jenny Sherwin (of Wicklow County Council).
• Church of STS. Mary & Peter Arklow Parish Office