Estella Solomons
'The spirit that drove her brush'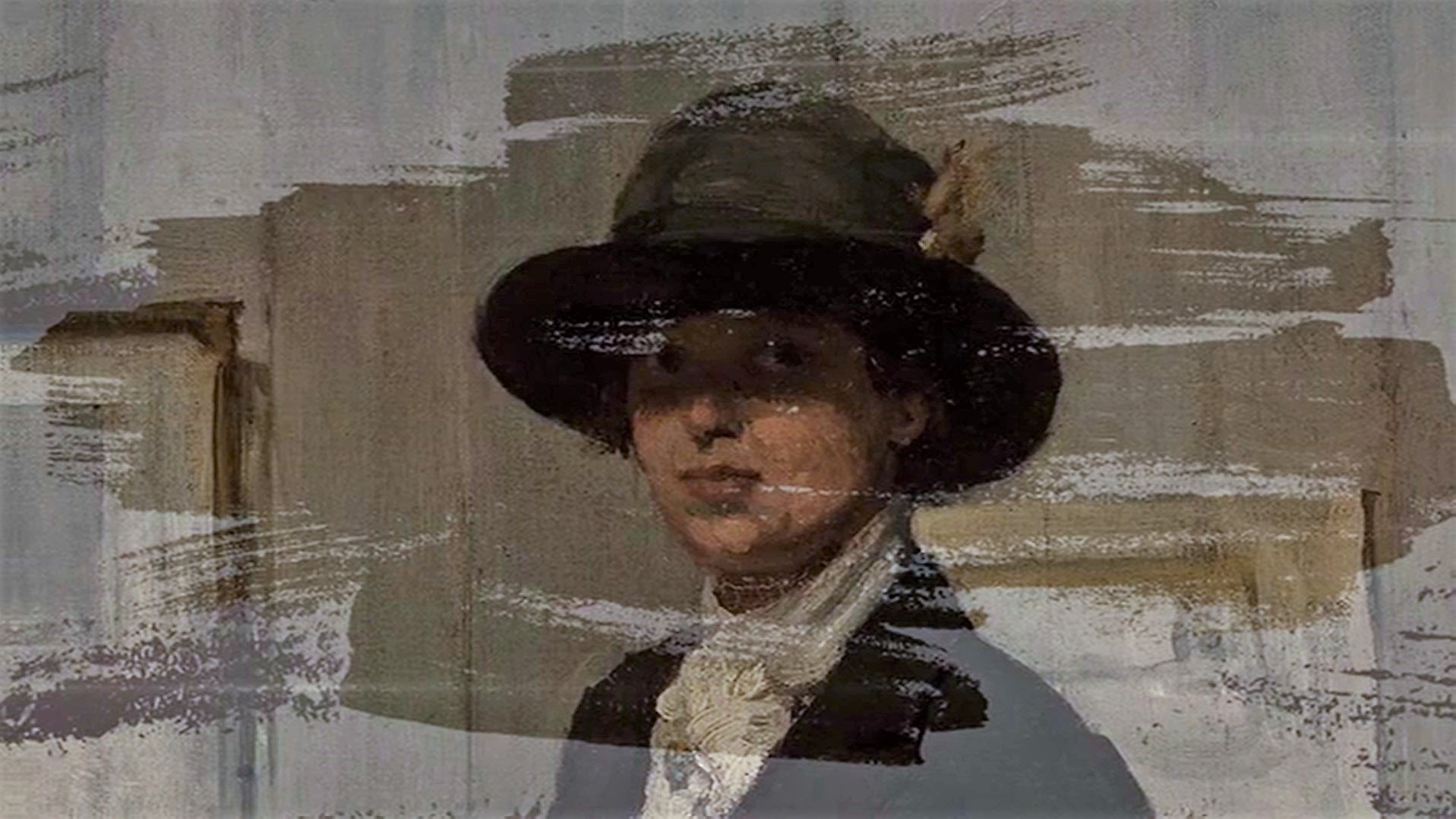 Mná100 hosted an 'In Conversation' with Steve Woods Director of 'Estella'
In the late 1990s, Steve Woods, script writer, director, producer, lecturer at the National Film School IADT Dún Laoghaire, Ireland was browsing in the National Gallery of Ireland's (NGI) Bookshop on Dublin's Merrion Square when he came across an entry that caught his interest. It was artist Estella Solomons in Dictionary of Irish Artists by Theo Snoddy:
Estella Solomons HRHA, (1882-1968), landscape, portrait painter and etcher. Estella Frances Solomons was born on 2 April 1882, into a Dublin Jewish Family … Her Father, Maurice E Solomons, born London, had followed his father's calling as an optician; he was also a maker of mathematical instruments. Estella, as part of her education, went to Hanover and on her return to Dublin attended Alexandra College. At the Dublin Metropolitan School she studied under (Sir) William Orpen and at the Royal Hibernian Schools under Walter F. Osbourne, RHA, (1854-1903) … she received three certificates for drawing 1899, 1900 and 1901 … By 1904, judging by a letter to her, she had established her studio at 17 Great Brunswick Street, Dublin … In 1905, she exhibited at the Royal Hibernian Academy for the first time and from then until the year of her death, missing only a few exhibitions, she contributed more than 250 works, principally landscapes, interspersed with portraits …
Estella Solomons…  Steve wanted to know more about her, especially, he wanted to know about her politics. He was curious about this description of her, it hinted at a larger story. Snoddy wrote of her enlisting in Cumann na mBan, 'her studio was a safe house for people on the run, her range of sitters and her refusal to take the Oath of Allegiance to the British Crown to retain her teaching position in Technical Institute, Bolton Street which resulted in her leading a teacher's strike and keeping her position'.
He began to delve into her life story searching for art and what was already known about her.
The more Steve found out about her life and work; he knew as a film-maker he wanted to put her life on screen. He met with her nephew Michael Solomons and his wife Joan. He wanted to understand about her, the silence, why did he not know more about her?
Steve wanted to understand her Irishness, from his reading he saw that she had a charming view of the Irish and a negative view of the English. This he discovered, 'picked up' as he describes it, 'from her letters, not from her family who at the time were Empire Loyalists.'
How did Estella become political, interested in Irish politics, become involve in the Campaign of Independence, take up arms…?
As Steve discovered more, he realised: 'Estella was not a political painter. The images were not overtly political, rather, her life was political.'
The expert on her life, Hilary Pyle's research on Estella Solomons had been during the artist's lifetime, two years before Estella Solomons death in 1968. Pyle, art critic, art historian and curator published her book Portraits of Patriots, in 1966, the 50th anniversary of the Rising. In 1968, the Crawford Municipal Art Gallery in Cork showed 173 'Work's from an Artist's Studio.'
In Estella Steve Woods interviewed Hilary Pyle, thirty years on, in her words she spoke of Estella eloquently describing 'the spirit that drives her brush.' Hilary spoke to Steve of Estella being 'filled with a compelling belief that Ireland was going to be free and these people were those who were involved in it.'
Her friends were revolutionaries, and Steve drew her to show she was one too.
Steve spent a long period looking at Estella's work, this research was required to build a life story through pictures. Many of these works were in private collections, his work spanned years from the initial idea to broadcasting the finished film.
On film, Steve recorded paintings that Geoffrey O'Connor had bought from Estella's studio collection. Steve captured on film some of these works, some unfinished, incomplete, those men on the run with rugged faces and sad eyes. Who posed for her? Many remain unidentified.
One of the works, which was in Geoffrey O'Connor's collection, is now in the permanent collection of the National Gallery of Ireland. It has the intriguing title On Parole. There is much discussion on who the sitter is …
Before she came to paint these portraits, Steve in his film showed her etchings. Estella Solomons captured Dublin, the back lanes and the streetscape and what she saw of the lives of people living there… the poverty. Her teacher was the artist, Walter Osborne.
Steve Woods describes how Estella was influenced by Walter Osborne, her emulating his work. He refers to a work now in the National Gallery of Ireland: Dublin Park, Light and Shade.
'Estella would have known this work.' 
'In that work it shows poverty and moreover the stress caused by poverty' – Steve believes 'this must have set her up as a political person. Like Osborne she has empathy with Dublin's poor.'
The more Steve found out – the more he wanted to know, 'I had fallen in love with her a bit. I couldn't understand why such a talented woman was overlooked'.
He describes how he loved her work – he recalled when he first went searching for her, knowing she was a Jew, going to the Irish Jewish Museum.
Steve says he saw the influence of Rembrandt – 'The way Reverend Gudansky is positioned in the painting, as if leaning out of the picture, the same in her own self portrait from this time; it's very Rembrandt. In fact this Rembrandt influence may have been a reason why she was overlooked. The women artists who were breaking through were Modernists. Estella wasn't'.
For his own film Steve Woods found artists to articulate Estella Solomons process. His list of contributors includes leading Irish artists Mick O'Dea and Robert Ballagh, who took to history to inform their work.
In the work of artist Nick Miller whose work is created out of doors, 'en plein air' Steve's film was able to show him at work. Evoking Estella and her practice and the point in her life when she took the decision to focus on landscape painting … By interviewing Nick he also gained unexpected insights on how Estella's religion would have been at odds with being a portraitist. Nick, a Jew, was able to provide insights on the embargo on painting the human figure in the Jewish tradition, and as he says 'a search for something that is darker … a search for a radical presence'.
As time passed Steve's understanding deepened as to how Estella's political life was different to others. Steve describes how he came to understand how she became politicised; his starting point understanding her background, 'her background was privileged.'
He found out she became 'involved in politics through her lover.'
As it is described in the film, Estella met James Starkey (better known by his pen name Seumas O'Sullivan), they could not marry as he was not a Jew. But they spent time together, they were part of a close friendship group of artists, writers but also playwrights and actors. Many of whom were in the nationalist movement. 
Steve Woods sees an earlier influence, her mother. 'She was politicised by family'.
His understanding from his reading that in the 1700s and 1800s these were the first wave of Jews, who came to Ireland, they were wealthier. The second wave were lower class – a new wave of emigration. 'They needed access to schools, other assistance. Rosa Solomons convinced the more elite Jewish people to build that school. When she died Rosa was mourned by her community.'
These things he learnt from his interviews talking to those, who in the 1990s were alive, her nephew Michael was close to his Aunt Estella.
'Her mother's education, her philanthropic influences on Estella. She had a brother who was Zionist. So Estella would have been familiar with the Zionist argument. However, made a conscious and very political decision – her homeland was Ireland'.
She raised funds for those affected by the 1916 Rising, at the point that she and her friend Kathleen Goodfellow joined Cumann na mBan.
We turn our discussion to 1916. We know her studio was on Brunswick Street now Pearse Street where PH Pearse and Willie Pearse were born; she would have known Willie Pearse at Art College. In the same building where she had a studio, James Stephens, the writer, lived in the flat below and wrote the book on the 1916 Rising: The Insurrection in Dublin. Estella supported Irish National Aid and Volunteers' Dependents Fund.  She also fundraised for those affected, those who were imprisoned and their dependents. She collected paintings and books from Irish artists both at home and abroad, she gathered these to raise funds in the aftermath of the Rebellion.
Our discussion turns to her activism, her active role in the Campaign of Independence. Steve discussed the story, that he was told by a number of people, that she carried a gun. 'Why did she have a gun?' Steve poses it as a question that he asked himself at the time he was writing the script for his film. She was taught to shoot by the 'Butterman' and she painted his wife in exchange. Steve talks about Countess de Markievicz and Margaret Skinnider using weapons, 'These women were exceptions. The republican movement discouraged women from bearing arms in the War of Independence. When talking about Estella learning to use a pistol, friends and family dismissed it as an amusing anecdote. In fact it was a serious thing, Estella was now not just risking her liberty but her life as well.'
Estella had weapons hidden in her family home, under the lettuce patch in her garden. Her family never knew.
As Steve describes: 'She raised the stakes and she was an active volunteer. Now trained in shooting she became more than someone who transported weapons. Why? We don't know. Again the family can't tell us and Estella, like many people from that era, didn't talk about what she did.'
Then we discussed her studios use as a safe house.
Key protagonists she painted in these years show how connected she was to the centre of activists in this period known as the Anglo-Irish War, better known as the War of Independence.
In Steve Woods' film Estella Mick O'Dea discusses the art of portraiture, the difficulties, and explains, Estella's skill at painting emotion. 
Mick talks about how commissioned portraits can be quite restrictive and how Estella painted these 'Guys sitting in the studio spending time' as an opportunity to develop and loosen up her portrait painting.
She painted the portrait of her friend David Hogan, better known by his writing nom de plume, Frank Gallagher. Her portrait of him is a work dated to 1920, the height of the War of Independence, when Frank Gallagher was working for Sinn Féin in the publicity department on the Irish Bulletin which was published by Dáil Éireann from 1919-1921.  While others were in prison he was director of propaganda.  He was also an officer in the 3rd Battalion, Dublin Brigade of the Irish Republican Army and had been imprisoned.
Sean Milroy was an early member of Sinn Féin, he joined the Irish Volunteers and fought in the 1916 Rising, organising the Hibernian Rifles and was imprisoned in Reading Jail. He was director of organisation in Dáil Éireann and on the Sinn Féin Executive. He was known to be a prominent member of the Irish Republican Brotherhood. Arrested in 1918, he escaped from Lincoln Prison, he returned to Ireland and was rearrested. He was on parole from January 1920, but returned to prison until April. Afterwards he was recorded by authorities working as an organiser in Manchester, Liverpool and London. On his return to Ireland in January 1921, he was interned in Ballykinlar. He was elected as a Sinn Féin TD in prison, but was released to attend the Peace Conference in Mansion House in 1921. He was part of the delegation secretariat in London in 1921, during the negotiations which concluded in the Articles of Agreement for a Treaty between Great Britain and Ireland.
When Dáil Éireann split on the acceptance of these terms, within months fighting had begun in the Irish Civil War.
Steve Woods film Estella looked to what happened in the period of the Civil War through the personal story of Estella at this time, using her letters. When Michael Collins was killed in an ambush in Béal na Bláth, County Cork August 1922, Estella wrote to a friend: 'Dear Light I feel as if I could never smile again. The shooting of Collins made me sick. I have been thinking of you all day… '
As hostilities continued there was a mass arrest of women and from the winter of 1922 throughout 1923 imprisonments exceeded 500 women. Those who had run safe houses during the Civil War were vulnerable to arrest. There were paintings in her studio of people who had been killed or captured, she destroyed them. This was shown in a beautiful sequence in Estella.  Steve located details of her exhibition in London in 1922.  Steve reflects on what it was like for her then: 'Politics is hard. People got killed, people she knew. She wasn't a political animal she had to step away.'
Steve makes a key point about Estella Solomons and how she evaded the historical narrative in the decades that followed: 'She was never arrested; her profile would have been higher if she had.'
In the years that followed she painted landscapes, she continued her work, 'she had her own literary circle.' The Dublin Magazine, was founded in 1923, working with her husband Seumas, (they married after the death of her parents) and her friend Kathleen Goodfellow, who was patron, they continued this for the decades after, as Steve describes 'it was their work.'
'Ireland was claustrophobic then', Steve considers the importance of this. 'She was fighting mediocrity – in the post-colonial and conservative Irish Free State. Trying in a small way to fulfill the promise that Irish freedom would bring a cultural renaissance'.
The first issue in 1923, had a reproduction of Estella's portrait of Jack B. Yeats. Other issues would illustrate other portraits and her etchings of Dublin.
Estella had been teaching etching in Bolton Street College of Technology. In 1922 at the time of the Civil War the authorities were insisting their staff swear an oath of allegiance to the British Crown. Estella led a strike against this and the college backed down.
Framing her work in Estella: Arts Lives, Steve has captured her. He told her story, perhaps as she would have wished it, letting her paintings tell the emotions of her sitters – the hardships of those times.
This work of biography reconstruction through film and a Decade of Centenaries exhibition, we continue profiling our patriots (to borrow from Hilary Pyle's title for the work on Estella in 1966).
Steve Wood's work preserves the oral history of those who knew her, researched her life and the work of her husband and her close friend Kathleen Goodfellow (a great addition is the interview with the late Dardis Clarke. Estella had painted his father Austin Clarke, the Poet, in 1934). In addition by filming paintings no longer in the public domain and finding new source material we are indebted to Steve Woods and his work from the 1990s and early 2000s.
During this Decade of Centenaries Mná100 endeavours to bring well-known and less well-known women to the fore, for new audiences. Thank you to Steve Woods for allowing us use this film, re-framing it for a Mná100 piece and by having this conversation; a reflection of his work two decades on. Steve, using his unique eye as an artist, film-maker, director, producer and script writer brings Estella Solomons' work, artistry and talent to life.
To view Steve Woods's documentary Estella in its entirety, the National Gallery of Ireland is hosting a screening of the documentary on 10th November 2022. The screening will be followed by a Q&A with Director Steve Woods and Mná100 curator and Historian Dr Sinéad McCoole.  Tickets are €10 and can be booked though the gallery website here.
All the oil paintings highlighted in this piece (except for the portrait of Seumas O'Kelly), together with the etching, are presently on view in the National Gallery of Ireland, the majority of which are on exhibition in the dedicated display Estella Solomons: Still Moments.
Estella Solomons: Still Moments, National Gallery of Ireland
3 September 2022 – 8 January 2023 
Room 31 | Admission free
This exhibition of artworks by Estella Solomons marks the end of the Decade of Centenaries. A committed nationalist and member of Cumann na mBan, Solomons painted portraits of many leading revolutionary and cultural figures of the time. From a turbulent period in Irish history, the paintings provide an insight into the artist's personal and political associations. The exhibition features artworks from the collections of the National Gallery of Ireland, and portraits from public and private collections across the island of Ireland, many of which are being shown together for the first time. Items from the Estella Solomons and Seumas O'Sullivan archive, housed at the Library of Trinity College, the University of Dublin, have also been included. These items shed further light on the artist's revolutionary activities and network of close comrades.
Curator: Niamh MacNally
This exhibition is supported by the Department of Tourism, Culture, Arts, Gaeltacht, Sport and Media under the Decade of Centenaries Programme 2012-2023.
You can view their full programme of events on the National Gallery of Ireland website here.
The story of the portrait of Seumas O'Kelly
This portrait was selected for the publication Portraits of Patriots, 1966 written by Hilary Pyle, art historian, art critic and curator, marking the 50th anniversary of the Rising. Pyle met Estella Solomons (1882-1968) in her home in Donnybrook. Her portrait of Seumas O'Kelly (1917) was one of the images selected for this publication, in fact it was the first illustration in the book. In 1966 the painting was still in the artist's possession.   
After it was published in this commemorative book, Seumas O'Kelly's nephew Alphonsus Sweeney went to Estella Solomons studio, and he brought with him his small daughter Emer. She recalls this visit:
'My father Alphonsus Sweeney was brought up by his Uncle Seumas when his parents emigrated to St Louis. The First World War intervened and he never joined them. When I was a child my father took me to Morehampton Road in his Austin Cambridge when he was visiting Estella to collect the painting.  He left me in the car alone and after a short time came back with the painting wrapped in brown paper.  I remember him being elated and it was like being reunited with a much loved family member.  Thanks to Estella I have had this strong connection with Seumas O'Kelly.'
This painting passed by descent to Emer. Today, one hundred years on, it has pride of place in her home, in a central position, one could almost say that it is the heart of her house. As part of this Mná100 Centenary piece we are delighted to share a colour image of this portrait, which conveys a sense of character, emotion and expression. Thank you to Cuan Ó'Seireadáin for supplying this image.
Continue reading about Seumas O'Kelly here.
Mná100 would also like to thank curator Niamh MacNally and Niamh O'Brien along with all the staff at the National Gallery of Ireland, Emer Greif and family, Edwin Alkin of the Irish Jewish Museum, Concepta Boyce and Noel Mc Crumlish at The Model Sligo, Trinity College Dublin, The Jacobs Family and The Trustees of the Estate of Estella Solomons for all their assistance with this article.
Featured image: Estella Frances Solomons HRHA (1882 – 1968). Woman in Riding Habit. Oil on canvas. The Niland Collection, Image Courtesy of The Model, home of The Niland Collection. © The Trustees of the Estate of Estella Solomons.